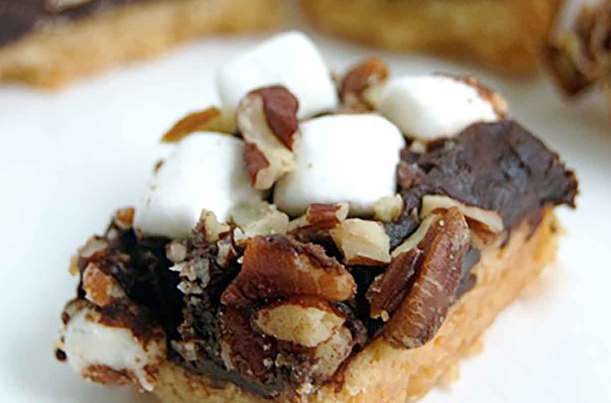 I love to make brownies or bars over the weekend they are wonderful to make when you have guest coming over, I often make them when family come to visit , so I am always on the look out for new recipes and I have found a few like these Rocky Road Bars  .. so good
So why not have a go at making this recipe this weekend .. happy baking
 Why Do We Love To Bake 

Socialising over food is just one of the reasons more of us are baking goods at home.

Baking unlocks all your senses

Whether it's the smell of brownies cooling or the feeling of kneading dough, according to psychologist Dr Linda Blair, "baking appeals to all five of the senses," which in turn increases feel-good endorphins. It can also work as an antidote to the daily grind often dominated by modern tech and staring at screens. "When we bake, we can get in touch with all our senses – sight, taste, feeling, sound and, in particular, our sense of smell, which can reawaken happy memories that we wouldn't have otherwise thought of."
Article Source :http://magazine.vitality.co.uk/5-surprising-reasons-baking-good/
This great recipe has been brought to you by kingarthurflour.com website , thanks for sharing it with us
 Here below is a list of the ingredients you will need from the website
A buttery, crunchy shortbread cookie topped with creamy dark fudge, jam-packed with marshmallow and toasted pecans? now THAT'S our idea of what to do with a chunk of dark chocolate!
TOPPING
3 cups chopped semisweet or dark chocolate or chocolate chips*
3/4 cup heavy cream
1 cup toasted diced pecans
3 cups (half a 10.5-ounce package) mini marshmallows
*go ahead and use a 16-ounce bag of chocolate chips, if you like; the "missing" 2 ounces will simply produce a slightly softer topping.