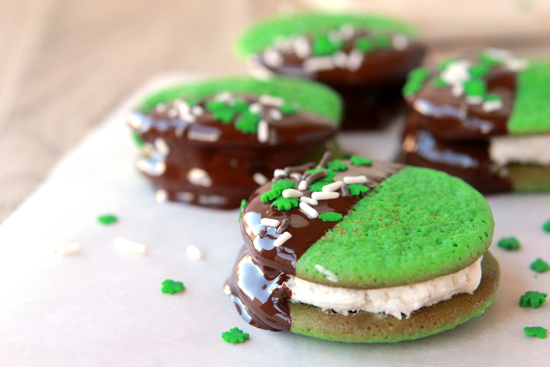 With St Patrick's day being on the 17th march I wanted to find some baking recipes that you just like to make to celebrate this day with pride , so how about these St. Patrick's Day Cookie Bites , great to make to have with loved ones or friends
No matter if you are hosting a party or just looking for a something sweet to tuck in a lunchbox, these recipes for cupcakes, brownies and cookie are sure to delight this St. Patrick's Day.
Every year on March 17, the Irish and the Irish-at-heart across the globe observe St. Patrick's Day. What began as a religious feast day for the patron saint of Ireland has become an international festival celebrating Irish culture with parades, dancing, special foods and a whole lot of green.
 This great recipe has been brought to you by bettycrocker.com website , thanks for sharing it with us
 Here below is a list of the ingredients you will need from the website
Looking to take a bite into the luck o' the Irish? This cookie celebrates all the flavors and colors of St. Paddy's Day. Mint sandwich cookies are filled with creamy frosting, dipped into dark chocolate and sprinkled to perfection. 
A delicious way to celebrate St. Paddy's Day, our chocolate-mint cookie bites are dipped in melted chocolate and sandwich peppermint-flavored whipped cream frosting.
Ingredients
1 pouch (1 lb 1.5 oz) Betty Crocker™ sugar cookie mix
1/2 cup butter, softened
1 egg
1 teaspoon green food color
3 teaspoons peppermint or mint extract
1 container (12 oz) Betty Crocker™ Whipped whipped cream frosting
1 bag (12 oz) dark chocolate chips (2 cups)
1/4 cup candy sprinkles