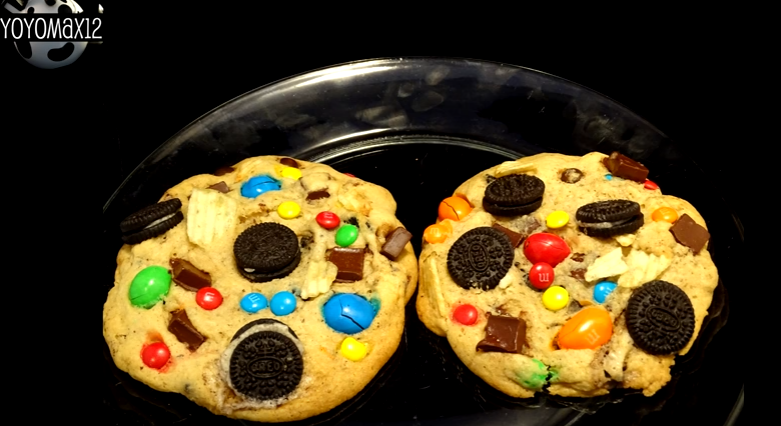 I love looking for recipes for you all and there is nothing that I like better when I am searching for recipes is to find those ones that have a video tutorial with them so I have found you a selection of them like these Snack Attack Cookies . so yummy I know you will love making this recipe
Great to make for that special treat
I love recipes with a video tutorial as they are much more easier to follow the recipe when you have something visual and the recipe too if possible so I really hope you enjoy making this recipe
This  particular great recipe has been brought to you by yoyomax12 – the diet free zone on YouTube, thanks for sharing it with us
Here below is  the recipe  and video tutorial from the YouTube channel
Ingredients
2 1/4 cup all purpose flour
1 pkg instant white chocolate pudding mix
1 tsp baking soda
1 cup butter at room temperature
1/2 cup brown sugar, packed
1/2 cup white granulated sugar
2 eggs
1/2 tbs vanilla extract
3/4 cup semi-sweet chocolate chunks
1/4 cup meg or peanut M&Ms
1/4 cup M&M minis
1 cup potato chips with ridges (lightly crushed)
45 (more or less) mini oreo cookies
Additional candies/chips/cookies for garnish
Combine the flour, pudding mix and baking soda, set aside.
Cream together butter and sugars together until light and fluffy.
Beat in eggs and vanilla.
Gradually beat in the flour mixture until combined.
Stir in the chocolate chunks and M&Ms. Gently stir in chips.
Refrigerate cookie dough for about an hour.
Divide dough into 12 pieces (about 1/3 cup each)
Form each piece into a hockey puck that is about 2 inches across and 1 inch in thickness.
Press more cookies, chocolate chunks, M&Ms and chips into the surface of the cookie dough puck.
Crowd the pieces as much as you can because cookies will spread.
Only put 6 cookies on the cookie sheet at a time leaving lots of space in between.
Leave the remaining cookie dough in the fridge.
Bake cookies at 325 F for 14-16 minutes until edges are golden brown.
Cool on pans for 15 minutes and then transfer to a wire rack to cool completely.
Makes 12 HUMUNGUS cookies.
Recipe from Woman's World Magazine.