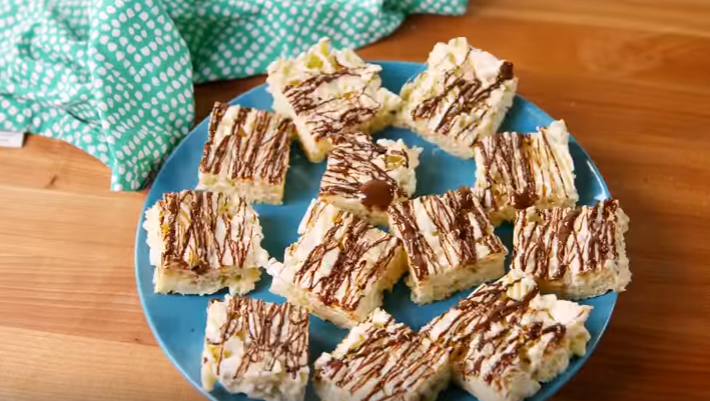 I love to make dessert treat of any kind for my family and friends as I love to see them enjoy what I have made so I wanted to find a few recipes that are easy to make and to follow as they are video tutorial recipes so how about making these Ruffles Krispie Treats, so delicious I think
Video recipe tutorials are so fun to watch and I like them as you get to see what the end produce looks like and it makes we want to go and bake so that is a good thing for my family who love my creations
So I really hope you give this recipe a go too
This great recipe has been brought to you by Delish  on YouTube , thanks for sharing it with us
Here below is the recipe and the video tutorial from YouTube
Ruffles Krispie Treats
DIRECTIONS
1. Line a 8-x-8" baking dish with parchment paper and spray with nonstick cooking spray.
2. In a medium saucepan, melt butter over medium-low heat. When the butter has melted, turn off the heat and stir in mini marshmallows. Stir until the marshmallows have melted completely. (If the marshmallows aren't melting, turn heat to low.)
3. When the marshmallows have melted, remove pot from heat and add crushed chips. Stir with a plastic spatula until well combined. Immediately, while the mixture is still warm, transfer mixture to prepared pan. Press down on mixture to make the bars more compact. Drizzle with melted chocolate.
4. Let treats cool to room temperature, about 30 minutes, before slicing.
INGREDIENTS
1/4 c. butter
1 10-oz bag mini marshmallows
6 c. crushed Ruffles
1/2 tsp. Flaky sea salt
1/4 c. melted chocolate