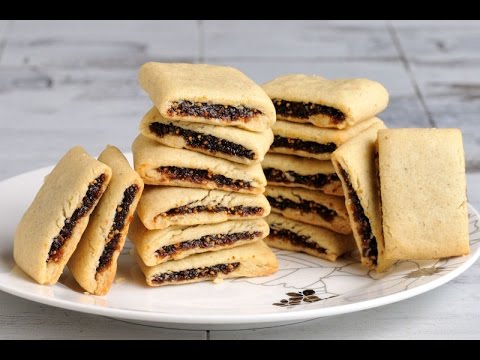 How about making these fig Newton cookies for National Fig Newton Day.. they do look rather good .. I have never made these cookies before but I will be giving them a go myself over the weekend
This great cookie recipe is brought to you by Haniela's on YouTube , thanks for sharing this recipe with us
Here below is an excerpt about these cookies from the YouTube channel
Fig Newtons Cookies are so delicious. Let's try making them together. In this video I show you step by step tutorial on how I make homemade Fig Newtons Cookies. If'd you like you can substitute figs for other dry fruit like apricots, raisins, prunes, add some ground walnuts into the filling for extra yumminess. So easy and it makes a lot of cookies, too. Enjoy.
Below is the recipe and the video tutorial to watch both from the YouTube channel
FIG NEWTONS COOKIES (makes about 70-80 cookies)
Cookie Dough
1/2 cup room temperature butter
1/4 cup granulated sugar
1/4 cup brown sugar
2egg yolks
1tsp vanilla extract
1 3/4 cup all purpose flour
1/4tsp baking soda
1tsp cardamom
1/4tsp salt
Fig Filling:
14 oz dry figs
1/4cup Grand Marnier, Orange Liqueur or use Dark Rum
1/4cup water
2tbl brown sugar
juice and zest of one lemon
Extra tools: plastic wrap, pastry wheel, piping bag, food processor
Oven Temperature: 350F, bake for 10 -13 minutes
Cookie Dough
Separate egg whites and egg yolks, save egg whites for later.
Sift together flour, baking soda, salt and cardamom.
Beat butter and sugar until smooth, 5 minutes.
Add egg yolks beat until combined, add vanilla extract.
On low speed gradually add flour mixture. One the dough comes together, form a disk and wrap with plastic wrap. Chill for 30 minutes.
Fig Filling
Put all the filling ingredients into the a pot, cover with the lid and bring to boil, lower the temperature to simmer and simmer for 20 minutes, or until figs are very soft and most of the liquid is absorbed by figs. If the figs are very dry and more liquid is need to cook them, you can add more liquid, add 1 to 2 tbl water at a time.
Once figs are cooked, process them in the food processor until smooth. Let cool completely, then fill the piping bag with the filling, set aside.
Preheat oven to 350F, bake for 10-13 minutes.
Divide cookie dough into sections.
Line the work surface with plastic wrap.
Take a piece of cookie dough and form into a log.
Put another piece of plastic wrap on top of the log. Press gently.
Take rolling pin and roll it out thinly into rectangle, at least 4 inch wide. Trim the excess dough so you a rectangle that is 4 inches wide.
Take the piping bag with the filling and pipe a long rope in the center of the cookie rectangle.
Lift one side of plastic wrap and fold the dough over the filling. Press gently to spread and flatten the filling.
Lift another side of the plastic wrap and fold the remaining portion of cookie rectangle over the first cookie fold.
Press gently with your hand to flatten out
Unfold the cookie log, hold one side of plastic wrap, gently roll the log so the seam is on the bottom.
Cut the cookie log with a knife into about 1.5 to 2 inch pieces.
Transfer cookies onto a baking sheet lined with parchment paper or non-stick silicone baking mat.
Bake at 350F for 10-13 minutes until very lightly golden on the bottom. Let cool for 5 minutes then transfer onto a cooling rack to cool completely. Enjoy. Store in the airtight container.
Cookies will get soft as they mature.
National Fig Newton Day is a food holiday celebrated on January 16. It is dedicated to Fig Newtons – cookies filled with fig paste that are a trademarked version of the fig roll manufactured by Nabisco.
Fig rolls were invented in ancient Egypt. They have become a popular snack food in many countries all over the world over time. Mass production of fig rolls in the United States became possible thanks to Charles Roser, a baker from Philadelphia. In 1891, he invented a machine for inserting fig paste into a thick pastry dough.
His recipe was purchased by Kennedy Biscuit Company based in Cambridgeport, Massachusetts. The first Fig Newtons were baked at the F. A. Kennedy Steam Bakery in that same year. The new cookies were named after the town of Newton, Massachusetts though some people mistakenly believe that they were named after Sir Isaac Newton, a renowned English physicist and mathematician.
When the bakery was purchased by Nabisco, the cookies were trademarked as Fig Newtons. They are in the company's top 3 best-selling products. Nabisco also manufactures other varieties of the Newton, including raspberry, strawberry, mixed berry and apple cinnamon. The unusual shape of these cookies has been adopted by many competitors.
Article Source :https://anydayguide.com/calendar/634