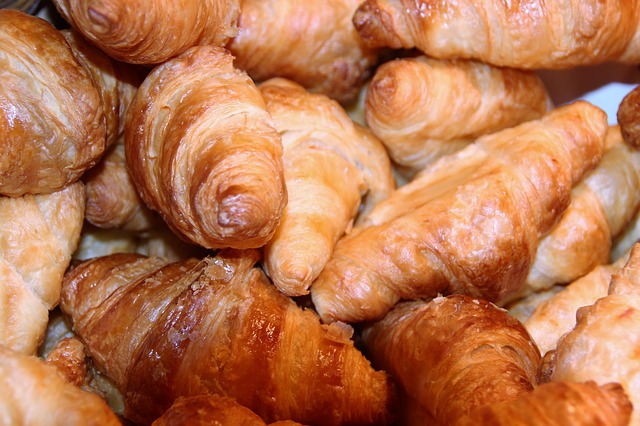 Today, we're going to make a classic that probably makes this pastry such a well-known throughout the world. The classic butter croissant with its flaky texture, delicious taste with every bite, and with its distinctive shape.This recipe will make 24 croissants that are perfect for breakfast or brunch, easy to carry, and pretty easy to make too.
Croissant is probably my number one pastry of choice. Whenever I travel to a new place, I always take the time to browse any local bakery because croissant will most likely be on their menu. It was when I visited New York with my family that I found this little bakery on the corner that sells the most amazing, classic butter croissant. I just had to recreate it and make a recipe.
With this butter croissant, you can literally add anything to it: jam, more butter, bacon, chicken, veggies, anything. Or, if you want to do it the French way, eat it plain or with jam dipped in black coffee, which is also one of my favorite way to eat them. 
Ingredients for Flaky Butter Croissant
3 ¾ to 4 ¼ cups all-purpose flour
2 (¼-ounce) packages active dry yeast 
1 ½ cups butter (softened)
1 large egg
1 large egg yolk 
1 tablespoon water
1 teaspoon salt
¾ cup milk
½ cup of warm water
1/3 cup all-purpose flour
¼ cup of sugar
How to Make Flaky Butter Croissant
In a bowl, combine the butter and 1/3 cup flour; beat at medium speed until well mixed, while scraping the bowl often. Line baking sheet with waxed paper then spread the butter mixture into a 12×6-inch rectangle on waxed paper. Over the butter mixture, place another piece of waxed paper. Refrigerate until firm (about 1 hour). 
In a 1-quart saucepan, combine milk, sugar, and salt. Cook for 4-5 minutes over medium heat until sugar is dissolved then cool to lukewarm. In a bowl, place warm water and yeast and stir until dissolved. Add the cooled milk mixture, 2 cups flour, and egg. Beat at medium speed until well mixed, scraping the bowl often. To make the dough easy to handle, stir in enough remaining flour.
Onto a lightly floured surface, turn the dough out and knead for about 5 minutes until smooth and elastic. Cover and let rest for 10 minutes. Roll the dough into a 14-inch square and onto one-half of dough, place the chilled butter mixture. Fold over the other half of dough, seal the edges, roll into a 21×12-inch rectangle, fold into thirds, and seal the edges. 
Cover with plastic wrap and refrigerate for1 hour. Repeat rolling and folding the dough 3 times then cover and refrigerate overnight or for 3 hours. Roll out the dough into a 24×14-inch rectangle. Cut the rectangle in half lengthwise and cut into 6 even sections, making 12 (7×4-inch) squares. Cut each square diagonally, making 24 triangles. Loosely roll up each triangle, starting from the wide edge. 
Onto a greased baking sheets, place point down; curve ends. Cover and then let rise until double in size. Heat your oven to 375°F. In a bowl, beat the egg yolk and water then brush over the croissants. Bake 13-16 minutes or until golden brown. Serve and enjoy.
To see other recipes for Flaky Butter Croissant, check out: 
https://www.landolakes.com/recipe/18218/flaky-butter-croissants/
http://www.certifiedpastryaficionado.com/classic-butter-croissants/