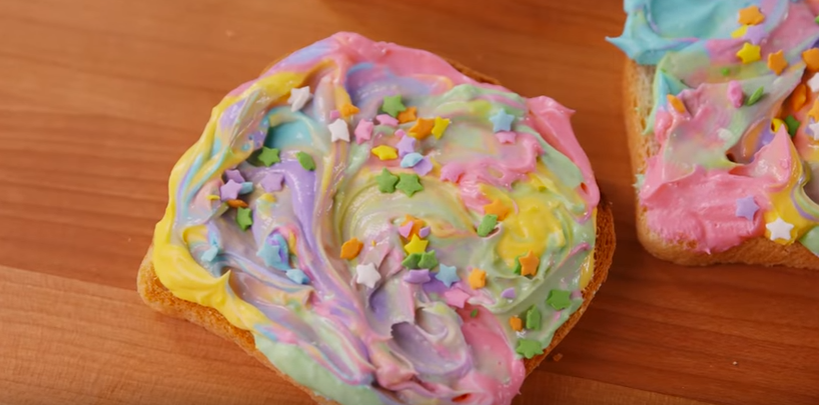 I love to make dessert treat of any kind for my family and friends as I love to see them enjoy what I have made so I wanted to find a few recipes that are easy to make and to follow as they are video tutorial recipes so how about making this Fun Unicorn Toast , so delicious I think
Video recipe tutorials are so fun to watch and I like them as you get to see what the end produce looks like and it makes we want to go and bake so that is a good thing for my family who love my creations
So I really hop[e you give this recipe a go too
This great recipe has been brought to you by Delish  on YouTube , thanks for sharing it with us
Here below is the recipe and the video tutorial from YouTube
You've never seen toast like this!
DIRECTIONS
1. In a medium bowl, mix cream cheese and marshmallow fluff until smooth.
2. Divide mixture among 5 small bowls and add a drop of a different food coloring to each bowl. Stir to combine, adjusting color as desired.
3. Add spoonfuls of the dyed mixture to toast, alternating colors until you've covered the surface of the toast.
4. Smooth the mixture with a knife, top with sprinkles, and serve.
INGREDIENTS
1 8 -oz. block cream cheese, softened
1/2 c. marshmallow Fluff
1 drop each pink, purple, yellow, green, and blue food coloring
4 slices bread, toasted