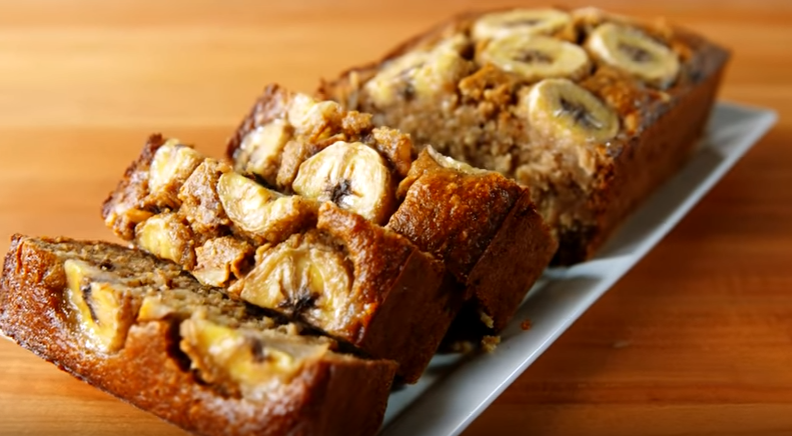 I love to make dessert treat of any kind for my family and friends as I love to see them enjoy what I have made so I wanted to find a few recipes that are easy to make and to follow as they are video tutorial recipes so how about making this Gluten-Free Banana Bread , so delicious I think
Video recipe tutorials are so fun to watch and I like them as you get to see what the end produce looks like and it makes we want to go and bake so that is a good thing for my family who love my creations
So I really hope you give this recipe a go too
This great recipe has been brought to you by Delish on YouTube , thanks for sharing it with us
Here below is the recipe and the video tutorial from YouTube
Every bit as good as the original. Bye gluten!
DIRECTIONS
1. Preheat oven to 350° and line an 8″-x-5" pan with parchment paper.
2. Combine bananas, oats, eggs, maple syrup, baking soda, vanilla, and salt in a blender. Blend until you have a smooth batter, about 1 minute. Fold walnuts into the mixture.
3. Pour batter into prepared pan and arrange banana slices on top. Bake until a toothpick inserted into the middle of the bread comes out clean, about 20 minutes.
4. Let cool in pan for 15 minutes, then invert loaf onto a cooling rack to cool completely.
INGREDIENTS
3 medium ripe bananas, plus more for garnish
2 c. old-fashioned rolled oats
2 large eggs
1/2 c. pure maple syrup
1 tsp. baking soda
1 tsp. pure vanilla extract
1/2 tsp. kosher salt
1/2 c. chopped walnuts, toasted