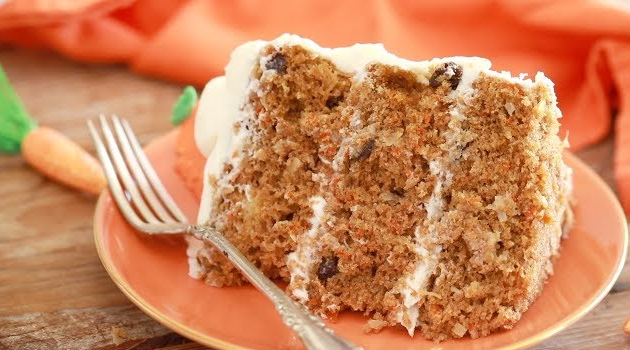 This is it, my recipe for carrot cake in a microwave that you can make in minutes in your microwave but don't worry, you can still bake them if you want to. This cake should have a balance of the sweetness of the carrots, the texture of raisins, coconut and pineapple, and of course, the cream cheese frosting. I guarantee that you will still have those amazing taste by baking it in your microwave. This recipe will make 6-8 servings of delicious carrot cakes.
Carrot cake is such a classic cake that you probably already know how to make them and have your own personal touches to it. But being a mother of two wonderful children, sometimes I just don't have the time to bake for hours. I am sharing this recipe with you today so you can still serve this amazing dessert for your family and probably still have a little time for yourself. 
This carrot cake will go well with probably anything that you want to add to it. Ice cream, honey, cinnamon or maybe be a little adventurous and add coffee cream topping. It's all up to you mommies. 
Ingredients for 3-Layer Carrot Cake
2 1/2 cups all-purpose flour
1 1/2 teaspoon baking soda
1 1/4 teaspoon baking powder
2 teaspoons cinnamon
1/2 teaspoon salt
2 cups sugar
4 eggs (room temperature)
1 cup vegetable oil
2 teaspoons vanilla extract
2 cups carrot (peeled, grated)
3/4 cup raisins
3/4 cup shredded coconut
1 cup crushed pineapple, strained
CREAM CHEESE FROSTING:
5 cups powdered sugar
2 cups cream cheese, softened
1/2 cup butter, softened
1 tablespoon vanilla
DECORATIVE CARROTS (OPTIONAL):
green candy melts
orange candy melts
How to Make 3-Layer Carrot Cake
To prepare the frosting: beat cream cheese and butter using an electric mixer. Add sugar and vanilla and continue to whip until creamy. Set aside in the fridge until ready to use. 
 To prepare the decorative carrots: Melt candies on separate bowls according to package instructions and put them on a separate piping bag. Line wax paper on a baking sheet. Pipe the shape of a carrot using the orange color, and leaves for the green color. Put them on the fridge to set.
Grease 3 9-inch microwave-safe silicone cake molds with butter. Mix the flour, baking soda, baking powder, cinnamon and salt in a large bowl, set aside. Combine sugar, eggs, oil, and vanilla in another mixing bowl with a hand mixer and mix for about 4-5 minutes, until pale yellow and fluffy. Combine the dry ingredients into the wet mixture by using a whisk. Add in the grated carrot, raisins, coconut, and pineapple.
Between the 3 molds, divide the batter evenly. Individually microwave each layer until firm on top and there is no more wetness (about 3 1/2- 4 minutes). This timing is based on my 1200-Watt microwave so your timing may vary based on your microwave wattage. Allow to cool for 3-5 minutes once each layer has been microwaved before turning out onto a cooling rack. Cool the cake completely before frosting.
On your serving platter or cake stand, put your first layer of cake. Spread frosting evenly across the cake by using a large offset spatula. On top of the frosted first layer, stack the next layer of cake and repeat the process until all layers have been frosted. Around the entire outside of the cake, apply a crumb coat or thin layer of frosting. 
Put the remaining frosting into a piping bag. Using your desired piping tip, decorate the top of the cake. Add decorative carrots too if you made one.
Store for up to 3 days at room temperature.
To see the original recipe that inspired this one, check out the recipe for 3-Layer Carrot Cake found at Bigger Bolder Baking.