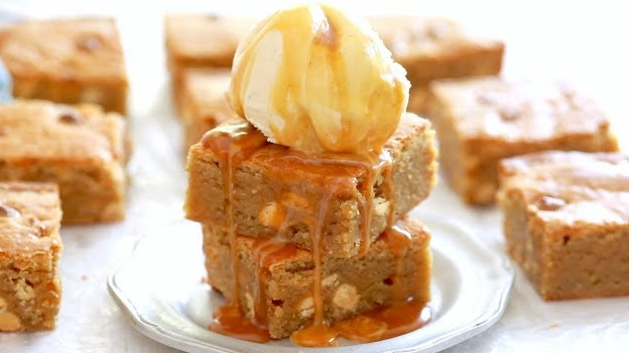 A lot of you are more into brownies, but today I am going to share a recipe with you with American classic – blondies.
Brownies and blondies come from the same family. They have the same chewy and moist texture that is made out of a combination of eggs, sugar, oil, and flour. Brownies get their rich and dark chocolate color from the melted chocolate that is used in the recipe, but blondies get their caramel-like color from the brown sugar in the recipe, vanilla extract, and rich and decadent white chocolate chip. The final result is unique caramel flavored, chewy and fudgy brownies – which are recalled as blondies.
With rich and chewy texture in the middle, chocolaty taste that comes from the white chocolate chips, this makes perfect easy to make dessert for the whole family. Perfect for Sunday baking and it's packed well for a gift to show people you care about them.
The best part of the recipe is that everything happens in a bowl.
Ingredients for Tasty Blondies 


1 cup (225g) butter, melted
2 cups (340g)brown sugar
2 eggs, at room temperature
1 tablespoon of vanilla extract
2 cups (284g) of all-purpose flour
1 teaspoon of salt
1 ½  cups (255g) white chocolate chips
How to Make Tasty Blondies
Preheat the oven to 350 F or 180 C and line 8×8 inch square brownie tin with parchment paper.
In a large mixing bowl add in the melted butter and brown sugar. Whisk until fully incorporated and then add in the eggs and vanilla extract. Mix well and add in flour, salt and add in the white chocolate chips. With your whisk, mix well until fully combined but remember to not over mix the batter. Transfer all of the batter in already prepared tin and bake for about 30 minutes. Let them cool completely and cut it into squares.
To see the original recipe that inspired this one, check out the recipe for Tasty Blondies found at Bigger Bolder Baking.