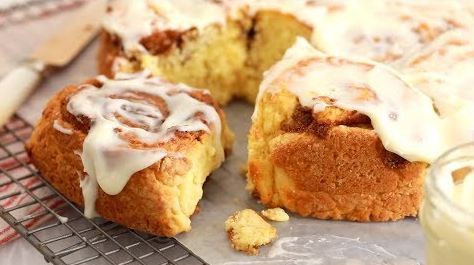 This 1-hour cinnamon rolls recipe without yeast is a super unique recipe. It is simple, delicious, quick, and easy to make cinnamon rolls with a soft, sweet, fluffy and gooey texture. This dish is perfect if you don't have a lot of time to bake and you are craving cinnamon rolls.
The secrets to this special no-yeast recipe are cold butter, baking powder, and sour cream. The cold butter adds a nice, rough puff pastry and flaky texture to the dough. The sour cream gives the cinnamon rolls elasticity, dazzling tenderness, and the taste of traditional cinnamon rolls. Baking powder used in place of yeast helps the dough rise.
These cinnamon rolls are perfect for breakfast, tea parties, or any feast at home. The rolls can be made using simple ingredients from your kitchen. This recipe serves ten to twelve members of a family.
I used to love cinnamon rolls as a kid. My grandma always took care of me in every way.  Food was one of the things that I always asked her for. My grandma came up with this quick and easy to make recipe in 1-hour. The recipe is so perfect and scrumptious that I am in love with it.
Cinnamon rolls were my favorite breakfast for a long time. If you have kids like me or have a busy routine and want a super easy recipe for yourself, this exquisite recipe is designed for you. You must try this 1-Hour cinnamon rolls recipe without yeast.
1-hour cinnamon rolls without yeast can be served in a dish or directly on a baking tray. Spread cream cheese glaze over the top of the cinnamon rolls after baking, and you may also sprinkle some cinnamon to make it look more presentable. The cooking time of this flavorful recipe is 1 hour.
Ingredients for 1-Hour Cinnamon Rolls Without Yeast
3 cups all-purpose flour
6 tablespoons sugar
1 1/2 tablespoons of leveled baking powder
3/4 teaspoon salt
3/4 cup cold and cubed butter
1 cup sour cream
2 large egg yolks
1 1/2 teaspoons vanilla extract

Cinnamon Roll Filling
1/2 cup cream melted butter
1 1/4 cups light brown sugar
2 1/2 tablespoons cinnamon

Cream Cheese Glaze
1/2 cup cream cheese at room temperature
1 cup powdered sugar
1/4 cup butter at room temperature
1 teaspoon vanilla extract

How to Make 1-Hour Cinnamon Rolls Without Yeast
Preheat oven to 200˚ C. Line a 10-inch baking tray with parchment paper and butter it to keep the dough from sticking.

Cinnamon Roll Filling
Put the brown sugar, cinnamon powder, and melted butter in a small bowl. Combine the ingredients and set them aside.

Cinnamon Roll Dough
Place the flour, sugar, salt and baking powder in a large bowl. Mix these dry ingredients, then add cold butter cubes. Rub the mixture by hand until it forms coarse crumbs.
Now, set the mixture aside and prepare the wet ingredients. Add some sour cream, egg yolks, and vanilla extract in a large bowl. Mix these ingredients together. Pour the liquid mixture into the dry mixture little by little, until your dough comes together.
Roll the dough on a shelf or pastry board and spread the cinnamon mixture on the rolled dough leaving half an inch border to avoid spilling. Nicely roll the dough and leave no spaces in the dough. Cut 1 1/2-inch squares from the dough, transfer them to the lined baking pan, and place them side by side. Bake the cinnamon rolls for 35-40 minutes at 200˚ C / 400˚ F and prepare the cream cheese glaze.

Cream Cheese Glaze Recipe
Add cream cheese, butter (at room temperature), and powdered sugar into the bowl. Mix them together until there are no lumps.
After the cinnamon rolls become nice golden brown, remove the tray from the oven and spread cream cheese glaze on rolls generously.
Enjoy the perfect freshly baked cinnamon rolls with your family!
To see the original recipe that inspired this one, check out the 1-Hour Cinnamon Rolls Recipe Without Yeast found at Bigger Bolder Baking on YouTube.