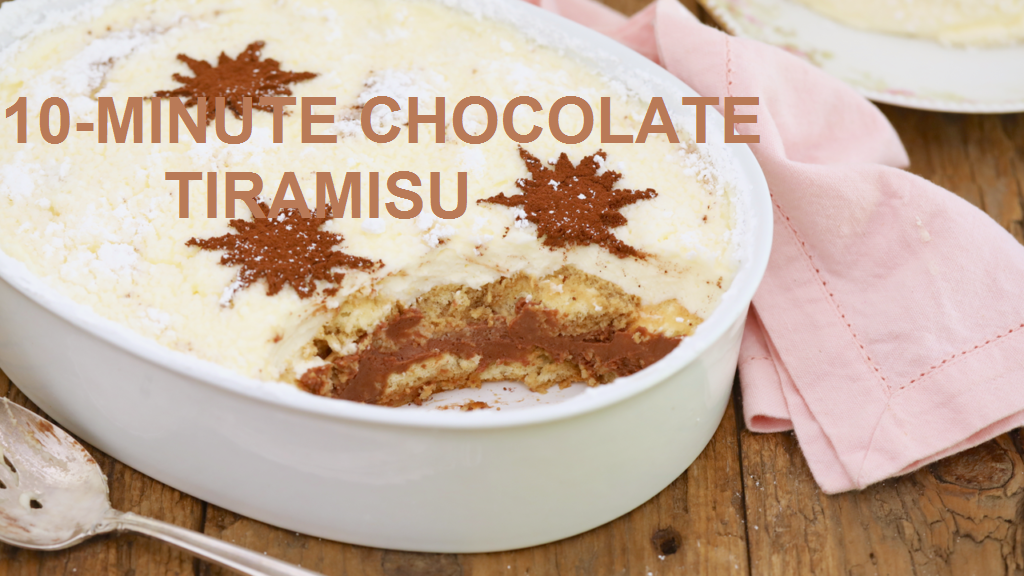 10-Minute Chocolate Tiramisu is the best ever, quick, easy to make and delicious chocolate dessert with soft, creamy and somewhat hard texture of the cookies. This is the perfect revamped chocolate dessert for chocolate and Tiramisu lovers. You can make it in the daytime and cool it down in the refrigerator for a whole day and serve it for dinner or anytime you want and you may also make it for any event. If you are feeling down or need energy in your daily busy routine, then this is the simplest recipe to cheer you up. Try and see for yourself! The ingredients used in the recipe are simple and can be easily found or you can make them at home. The dessert can be served six to eight members.
It remembers me of a picnic with my family. I asked my mom to suggest a recipe for my kids and family, and she came up with the best one as usual. This was the special Chocolate Tiramisu dessert that my mom suggested. I made this recipe for my kids and everyone was impressed with the dessert. Now my kids and husband especially ask me to make this dessert. This really takes a smile on their faces and that's what every mother or cook wants.
This super tasty and magnificent 10-minute chocolate dessert can be served in a plain dish or maybe dessert bowls. The dessert can be garnished with icing sugar, cocoa powder, chocolate chips, fruits or cookies. The preparation time of this dazzling and scrumptious recipe is about 10-minutes.
Ingredients for 10-Minutes Chocolate Tiramisu
1 cup Chocolate bars
1 cup Mascarpone (made with cream and lemon juice)
1/3 cups sugar
1 teaspoon vanilla essence
1 cup heavy whipping cream
1 pack ladyfingers cookies or any finger-shaped cookies
2 cups espresso or any other strong coffee, at room temperature
How to Make 10-Minute Chocolate Tiramisu
Take chocolate bars and melt them in the microwave oven. Then take mascarpone, add some sugar, vanilla extract and beat it well with hand or an electric mixer. Make sure to remove all lumps and to make it smooth. Then add some heavy whipping cream and beat it again to form a nice thick creamy texture. Mix half of the mixture in melted chocolate and mix them well. To make the layers, take 8" by 12" bowl and take coffee in a bowl. Dip ladyfingers in it for a second make a base layer and fill the little gaps in the dish. Next, give an even layer of mascarpone and chocolate mixture. Put the other layer of coffee dipped mascarpone and spread an even layer of simple mascarpone. For presentation, dust some powdered sugar on the top and use cocoa powder to make shapes on it.
To see the original recipe that inspired this one, check out the recipe for 10-Minute Chocolate Tiramisu Recipe found at Bigger Bolder Baking.