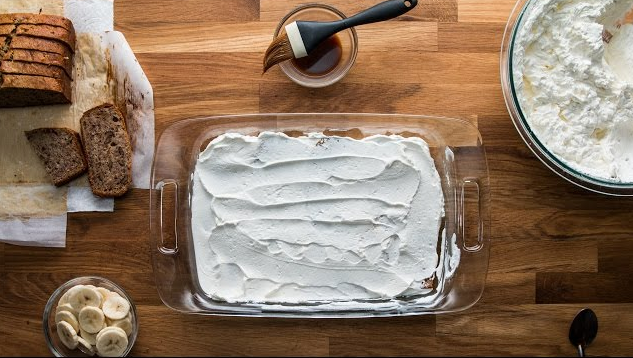 Banana bread Tiramisu is an amazingly delicious, easy to make and scrumptious dessert with a nice, smooth, soft, creamy and fluffy texture. The dessert can be stored or kept for several days, and if you want to store the dessert, then omit caramelized banana from the recipe to keep it fresh for several days. The fancy and simple dessert can be plated out in special events or in your daily routine. This is the perfect recipe for cream and chocolate lovers. The ingredients used in the recipe are really healthy and good food for heart and bones. To make this yummy dessert, you can find the ingredients in your kitchen cupboard or refrigerator. The recipe can be easily served to members.
This delicious dessert reminds me of a happening from my past. The banana bread Tiramisu recipe we discovered at my grandma's friends' home. A few years back, we (me and my grandma) were invited as a guest in a party of my grandma's friend. This was the special dish there and as my grandma always does. She asked the recipe immediately and tried that at home. Now, this is one of the special desserts at our home for every event.
The banana bread Tiramisu can be served in a dish, and it can be plated out like a typical pastry. For presentation, you can garnish it with chocolate chips, bananas, or even caramel or nuts. This is a quick and easy to make recipe, and you can prepare it in 1 hour and 30 minutes at home.
Ingredients for Banana Bread Tiramisu
Banana Bread
4 Bananas
1 cup sugar
Butter 1/2 cup softened
2 eggs
1 teaspoon vanilla extract
1 1/2 cups flour
1 teaspoon baking soda
1/2 teaspoon salt
1 cup walnuts, crushed
Tiramisu Filling
2 teaspoons instant espresso (or any coffee)
3 cups Whipping cream
3/4 cup sugar
2 sliced bananas
4 tablespoons water
1/4 cup Cocoa powder
How to Make Banana Bread Tiramisu
Preheat oven at 180˚ C / 350˚ F and mash four bananas with a fork. Take a large bowl and mix butter, sugar, eggs, vanilla extract with beater. Then add mashed bananas and mix it gently. Next, add sifted flour, baking soda, and salt with the help of a sieve and beat the mixture. Add crushed walnuts in the mixture and combine it with a spatula.
Pour the banana bread batter into a butter and paper lined bread pan. Bake the mixture for 60 minutes until it becomes golden brown and let it cool.
For layers, cut the bread into slices about 1/2 inch and prepare the cream mixture. In a bowl, add whipping cream, sugar and beat the mixture to make it stiff. Take a dish and spread bread slices in the bottom of this tray. Dissolve the espresso coffee in cold water, apply it on bread with a brush gently. Then spread an even layer of whipped cream and next cover it with the banana layer. Then again spread the cream layer and next to it put the bread layer. Apply coffee on the bread and spread an even cream layer, at the end. Dust the cocoa powder with a sieve at the top of it generously.
Enjoy the dazzling and tasty banana bread Tiramisu with your family!
To see the original recipe that inspired this one, check out the recipe for Banana Bread Tiramisu found at Tasty.