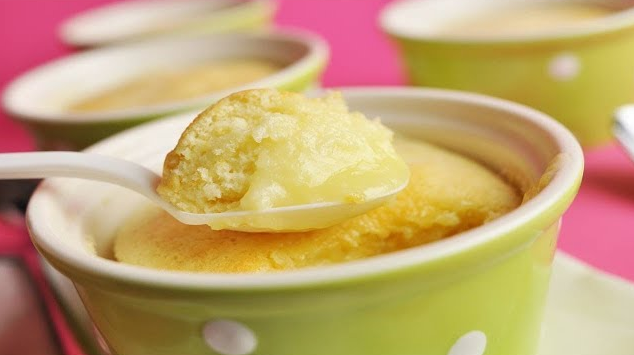 What's great about this recipe is that it has some spongy exterior and very smooth pudding-like consistency in the inside. This happens while baking this dish, while actually butter separates into two layers.
What I like about this recipe is that it can be made with very simple but delicious ingredients and also it can be made in individual ramekins or big heatproof bowl to please a much bigger crowd.  I like it to prepare with ramekins because that way you can enjoy it individually and in my opinion it has a better presentation and it is so meaningful to the one you love.
Lemon and butter are just match made in heaven. This perfect food pairing is great for everyone that loves citrus flavors into their desserts.
The best part is that everything happens in just a single bowl whisking and combining simple but delicious ingredients all together. The final result is a dessert full of flavor ready to be enjoyed with the one you love the most.
Ingredients for Lemon Sponge Pudding 
1 cup granulated white sugar
4 tablespoons butter at room temperature
3 large eggs
1 teaspoon of vanilla extract
1 tablespoon lemon zest
1/3 cup all-purpose flour
¼ teaspoon of salt
1/3 cup freshly squeezed lemon juice
1 cup milk
1/8 teaspoon cream of tartar
How to make Lemon Sponge Pudding 
Preheat your oven to 325 F or 165 C.
Butter six ramekins and set aside.
Set aside 2 tablespoons of granulated sugar to use it when whipping the egg whites. Using an electric mixer, beat the remaining sugar and butter together until fluffy and light. Add three egg yolks, one at a time beating well between each addition. Beat in vanilla extract and lemon zest. Add the flour and salt and beat until all combined. With the mixer on low speed, gradually pour the lemon juice and milk to loosen up the mixture. Set aside while you beat the egg whites.
In a separate bowl, beat the egg whites until fluffy. Add in the cream of tartar and then continue to beat the egg whites until soft peaks form. Gradually add the remaining two tablespoons of sugar and beat until well incorporated and stiff peaks form. Gently fold the egg whites into the batter in three additions, mixing well until incorporated.
Evenly pour the batter into the prepared ramekins. Prepare a water bath and place all the ramekins in a larger baking pan. Carefully pour in enough hot water so that the water is halfway up the sides of the ramekins.
Bake for about 40-45 minutes or until the sponge cakes are golden brown and a toothpick inserted comes out clean. Cool slightly before serving.
Enjoy the beautiful aroma from the lemons.
To see the original recipe that inspired this one, check out the recipe for Lemon Sponge Pudding found at Joy of Baking.