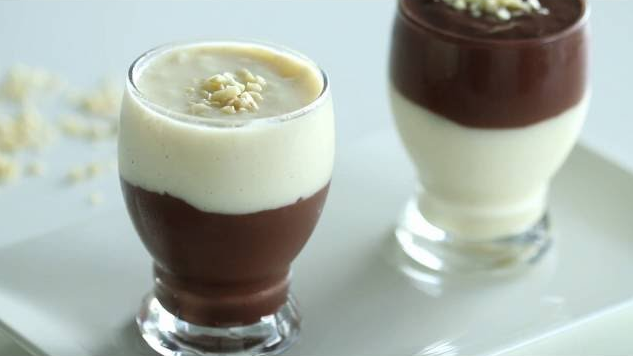 Dreamy and creamy, this pudding recipe is just made for all the chocolate lovers out there.
Just perfect for easy weekend cooking, Friday night gathering with family and friends or for a romantic night.
All you need is just a simple ingredient that I am sure you will find them in your kitchen, and 15 minutes of your time. Boom, delicious, and creamy rich dessert is formed. It is perfect but very simple for the ones who love to show off in front of their guests.
The most interesting part of the recipe is how this pudding is presented in front of the table. In a large glass, you will either taste vanilla and chocolate pudding all together well combined with crushed walnuts – a crunchy and delicious kick for every dessert lover out there.
With just 15 minutes, this is a perfect dessert for everyone who likes to try out something from scratch.
Trust me; it's the easiest recipe you will make, ever! It's not that hard to make as it looks, and the final result will just amaze you.
Ingredients for Vanilla and Chocolate Pudding 
For the vanilla pudding:
¼ cup cornstarch
1/3 cup granulated sugar
¼ teaspoon of salt
1 egg
2/3 cup whole milk
2 cups whole milk
2 teaspoons vanilla extract
For the chocolate pudding:
1/3 cup granulated sugar
1/3 cup cocoa powder
¼ teaspoon salt
¼ cup cornstarch
1 teaspoon of vanilla extract
How to Make Vanilla and Chocolate Pudding 
To make the vanilla pudding mix together in a large mixing bowl: cornstarch, granulated sugar, and salt. In another bowl, whisk together the egg and whole milk and add in the dry ingredients. Whisk until combined and in a saucepan over medium heat, heat up 2 cups of whole milk and add in the vanilla pudding mixture. Whisk constantly until smooth and thicken. Remove from stove and add in vanilla extract. Whisk all together and set aside covered with plastic wrap to skip skin forming on top.
Repeat the same process for the chocolate pudding and serve two of the pudding in a glass served with crushed walnuts.
Enjoy!
To see the original recipe that inspired this one, check out the recipe for Vanilla and Chocolate Pudding found at Home Cooking Adventure.