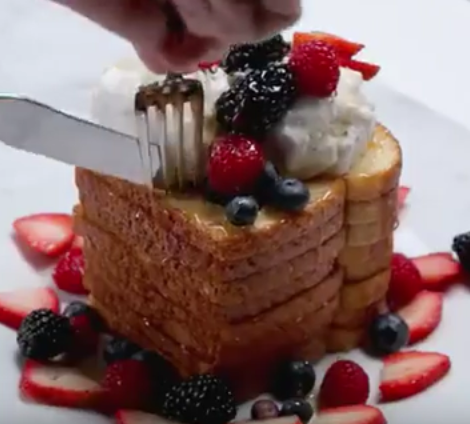 What a great way to start the day of with some honey toast it looks so delicious and to have it with fresh berries and that mug of latte or fresh juice well that is my breakfast sorted .. how about yours?
When I came across this recipe I just had to share it on to you all as I will be giving this recipe a go too
This great recipe has been brought to you by Tasty on YouTube , thanks for sharing it with us
Here below is the recipe  from Facebook and the video tutorial to watch from the  YouTube channel
Here's what you need:
8 pieces of bread
butter
Honey
Ice Cream
Berries (or any topping, really)
Directions:
Cut out the center of 7 pieces of bread. Cut each center piece into 4 smaller squares. Lay out all the bread on a baking sheet and cover both sides of all of the bread with melted butter. Bake until lightly browned, flipping half way through. Cover in honey. Stack all of the crust pieces of bread, making a tall cup shape and fill with small squares of toast. Top with ice cream, berries, and honey (or your preferred toppings).