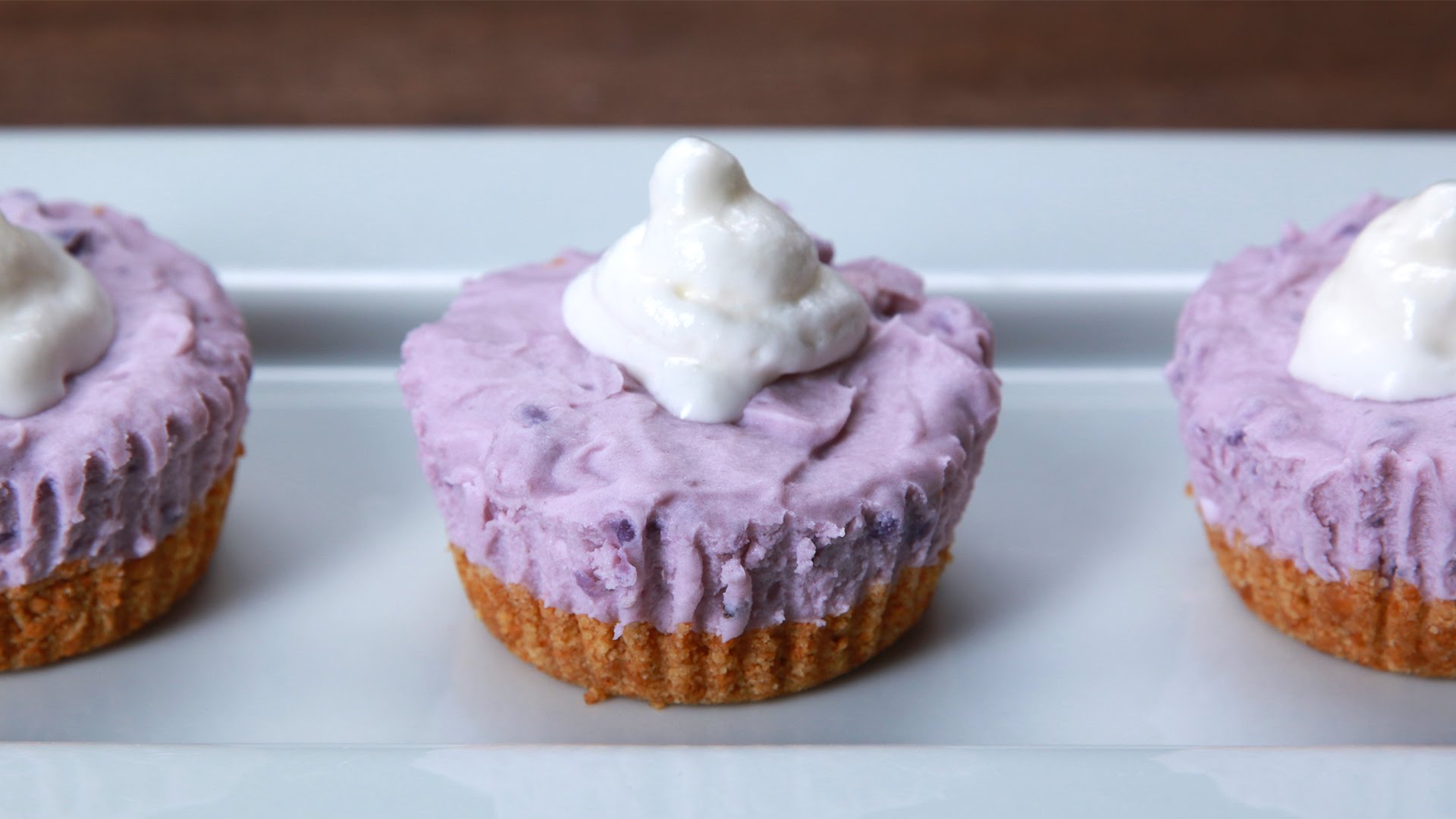 Purple yam has a similar taste and texture to sweet purple potatoes, but they are more delicious and have a darker color. My mother usually cooks purple yam with sticky rice to make a sweet Filipino delicacy. When there is no available purple yam in the market, my mother substitutes it with sweet purple potatoes. She adds ube (purple yam) extract into the mixture with coconut and condensed milk, butter, and sugar. It takes 2 to four hours to cook this kind of delicacy.

While these Mini No-Bake Ube Cheesecakes are much easier to prepare, the graham cracker crust is lighter than sticky or glutinous rice, and they look lovely because of the purple yam vibrant color. If you don't want to consume time grating the purple yam, you can replace it with ube jam, but you need to adjust the sugar as this is already sweet.

If you get tired of the blueberry and strawberry cheesecake and are looking for a new flavor, I suggest making this at your next family gatherings.

Ingredients for Mini No-Bake Ube Cheesecakes
For the crust
1 cup (8 crackers) graham cracker crumbs
1/4 cup butter, melted

For the Ube Mixture
1/4 cup butter
2 1/2 cups coconut milk
1 pound grated purple yam (ube)

For the Cream Cheese Filling
1/4 cup butter, softened
8 ounce cream cheese
1/4 cup sugar
8 ounce whipped cream

Extra whipped cream, optional

How to Make Mini No-Bake Ube Cheesecakes

For the ube mixture: melt 1/4 cup butter in a saucepan over low heat. Add coconut milk and condensed milk while stirring. Add the grated purple yam and break it down until the mixture is smooth. You can adjust heat to medium but be careful not to burn the ube. When the mixture is smooth, remove from the heat and let it cool.

In a separate bowl, beat the cream cheese and butter. Add sugar and then the whipped cream. Using a spatula, fold the ube mixture in the cream cheese filling.

Line a 12-cup muffin tin with liners. In a bowl, melt the butter in the microwave and then add the graham cracker crumbs. Mix well. Divide the mixture into 12, and using the bottom of the glass, press down the crust.

Scoop some ube-cream cheese filling and put it into the liners. Freeze the mini cheesecakes for an hour. You can garnish them with the extra whipped cream on top.

To see the original recipe that inspired this one, check out the recipe for Mini No-Bake Ube Cheesecakes found at Tasty.