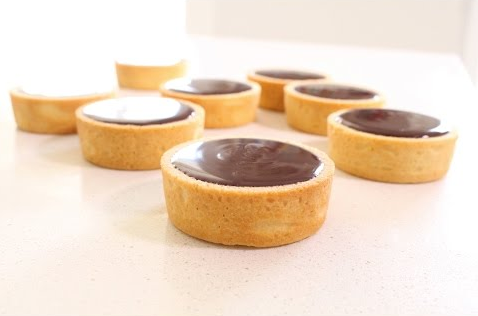 This is a fun recipe to make, and there's no limit to what you can add to it. The delicious pastry and the custard when you bite into it, oh my god. This classic chocolate tart is super simple to make, and you can use it as a base and add whatever you like as a topping. Be the star of a party and serve these six individual tarts that can serve…two people? I'm kidding, just one tart for one person, but that is just cruel, I recommend you to make more if you have the time.
This sweet dessert is so delicious. I remember ordering half a dozen of them from a local bakery in my area and finish them before I even got home. My husband was laughing when I told him;I got him the same tarts the next day and now we have the same new favorite dessert.
This chocolate tarts just as is already delicious, but don't stop there, add something that can make it into a whole new experience. I added some caramel to mine the other day, and it was amazing.
Ingredients for Individual Chocolate Tarts
WHAT YOU WILL NEED
a6.5cm diameter muffin tray
2 35cm length/width baking paper
round cookie cutter (5.5/6cm diameter)
heat-proof cling-film cut out 6 pieces
PASTRY
70g (2.4oz) cold unsalted butter (cubed)
57g (2oz) powdered sugar (sifted)
30g (1oz) cold egg, (crack and whisk an egg to break it up)
150g (5.3oz) all-purpose flour (sifted)
GANACHE
140g (5oz) dark chocolate
140g (4.7 fl oz) whipping cream
40g (1.7oz) butter (room temperature)
How to Make Individual Chocolate Tarts
Start by preheating the oven to 320 F. In a bowl, add cold butter and sugar, whisk until combined. Add the egg in parts while whisking until completely combined. Add the flour, fold then tip onto a cool work surface and bring together with hands. Form into baton shape and smooth across work surface as soon as it comes together. On a baking paper, flatten slightly and cover with the second piece and roll out to a thickness of about 3mm. Using your cookie cutter, cut-out 6 circular disks for the bottom of the tart and slice strips long enough to cover the sides of the tart. Cover with baking paper and put in the fridge for about 3hrs.
With melted butter, brush the muffin tins, then remove the pastry from the fridge and place strips around the border, seal at seam then circular discs, sealing around the border. Lightly prick with a fork. Then, with a square of cling film and dried rice, fill each of the tarts.
Bake in the oven for about 15minutes. Take out and remove the rice and cling film then place it back in the oven to bake until just golden (3-5 mins). Set aside.
To make the chocolate ganache: melt chocolate in a bowl then set aside. Heat the cream then pour over the chocolate gradually while stirring. Add in the butter, stir to combine, and pour into the pastry shells. Put in the fridge or allow to cool, serve, and enjoy.
To see the original recipe that inspired this one, check out the recipe for Individual Chocolate Tartsfound at Tri.