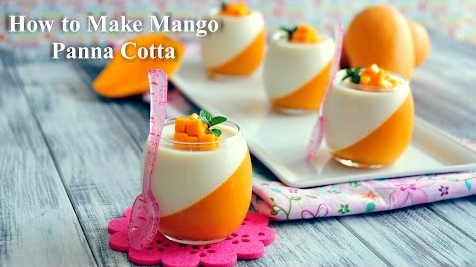 A classic Italian dessert, and if you ever eat in an Italian restaurant, this will definitely be on the menu. Creamy and silky texture serve chilled with fresh fruit on top, you'll be everyone's favorite when you serve this amazing dessert. Today, we're going to use mango as the base for our Panna Cotta, and this recipe will make about 8 cups. But when you have the time, I urge you to make more, this delicious dessert won't last long.
There's an Italian restaurant near my house that serves Panna Cotta, and it is amazing. I want to make this for my family and also by incorporating everyone's favorite fruit into it, mango. Maybe they got it from me, I just love mango.
The traditional way of making Panna Cotta is just to use cream, sugar, and gelatin. You can also add your own touch to it, use other fresh fruit like strawberries and blueberries and make it a colorful dessert of red, blue, and orange. Also, don't be afraid to top it with some sweet treats like honey, syrup, or ice cream.
Ingredients for Mango Panna Cotta
TO MAKE THE MANGO LAYER:
1 cup mango nectar
1 (1/4 ounce) package of unflavored powder gelatin
1 1/2 cup fresh mango puree (4 – 5 mangoes)
TO PREPARE THE VANILLA BEAN LAYER:
1 cup milk
1 (1/4 ounce) package of unflavored powder gelatin
1/3 cup sugar
a pinch of kosher salt
1 tablespoon vanilla bean paste
2 cups heavy cream
How to Make Mango Panna Cotta
In a heat-proof bowl, combine the mango nectar and powder gelatin. Mix and set aside. Peel the mangoes, get all the flesh, and blend until smooth. Transfer to a bowl. In a microwave, heat the gelatin mixture for about 1 minute. Stir the gelatin mixture into the mango puree and mix to combine.
On a mini cupcake pan, place 8 cups at an angle and pour the mango puree into the cups until almost at the edge. Chill for about 2 hours.
In a saucepan, add the milk, powder gelatin, and let the mixture sit for about 10 minutes. Heat on low after and add sugar and salt. Remove from heat after the sugar completely dissolves. Add the vanilla bean paste and mix. Pour the heavy cream in a bowl and add the mixture into the cream. Take the cups from the fridge once the mango sets and fill with vanilla mixture up to the edges. Put back into the fridge and chill for about 4 hours. Enjoy.
To see the original recipe that inspired this one, check out the recipe for Mango Panna Cotta found at Amy Tong.