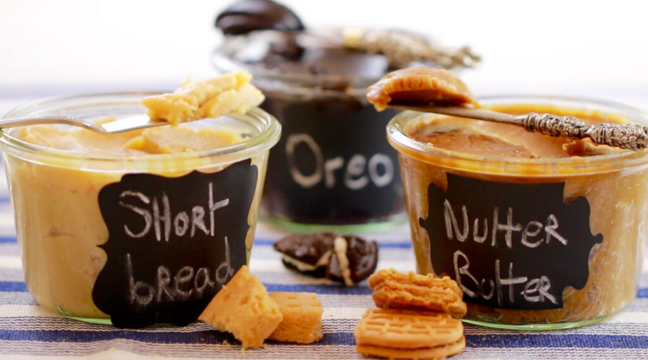 A Great way of using up old cookie or even by new ones to make these delicious cookie butter that can be used in different desserts which you will be shown now , also these great cookie butters can be given as gifts which is such as nice idea  near the festive season
These cookie butter recipes have been brought to you by Gemma Stafford from Bigger bolder baking on YouTube and on the website biggerbolderbaking.com, thanks for sharing it with us
Here below is an excerpt about these cookie butters from the website
During the Holidays, do you have tons of cookies in your house like me? Sometimes too many to even eat, so I'm going to show you an awesome ways to turn them into Homemade Cookie Butters.

Homemade Cookie Butters only take 5 minutes to make AND you need just 3 ingredients – Cookies, Butter and Evaporated Milk. Blend those ingredients all together and what you are left with is a smooth cookie spread that can be used in a multitude of desserts, or just eaten straight off the spoon.

I never do things by halves, and my baking is no exception. That is why I made 3 Homemade Cookie Butters: Nutter Butter, Oreo and Shortbread.
Here below for you is the ingredients you will need for each butter plus the video to watch
Homemade Nutter Butter Cookie Butter
 Prep time Total time 5 mins      serves 1 jar
Ingredients
2 cups (10oz/280g) Nutter butters cookie crumbs (24 Nutter butters roughly)
½ stick (2oz/60g butter
½ cup (4 ½ floz/128g) evaporated milk
Homemade Oreo Cookie Butter
Ingredients
2 ½ cups (10oz/280g) Oreos cookie crumbs (30 Oreos roughly)
½ stick (2oz/60g) butter
½ cup (4 ½ floz/128g) evaporated milk
Homemade Shortbread Cookie Butter
Prep time Total time 5 mins  Serves: 1 jar
Ingredients
2 cups (10oz/280g ) Shortbread cookie crumbs
½ stick (2oz/60g) butter
½ cup (4 ½ floz/128g) evaporated milk
Notes :You can substitute regular milk for evaporated milk  * For vegan/ dairy free Cookie butter you can use Nut Milk
Original recipe source: Gemma Stafford from Bigger bolder baking on YouTube and on the website biggerbolderbaking.com