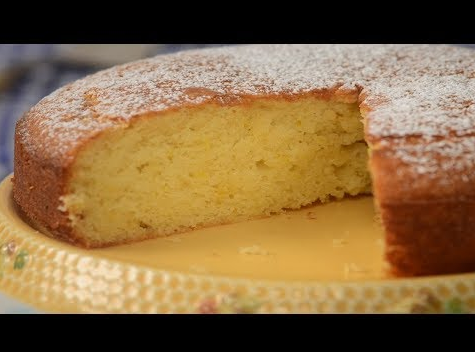 Yogurt cake is a simple, easy to make, delicious everyday cake or dessert with light, soft, flavorful, and moist texture. This is the perfect recipe for picnic, celebrations, parties, any special event or even everyday and busy routine. The infusion of almond, lemon, and yogurt in cake gives really scrumptious and delectable taste to the dessert. Apart from its magnificent taste, the yogurt and almond are really healthy for your digestive system and brain. In this yogurt cake recipe, simple ingredients are used from your kitchen cupboard. The cake can be generously offered to eight family members.
I remember, this is the recipe from my grandma and it makes me nostalgic. This is the first-ever baking recipe I learned from her. No matter how much you grow or excel in your life, the first memories come first with much prestige and emotional affection to your loved ones. So this will also be my gift to my daughter as well that my grandma passed to me.
The yogurt cake slices can be served in a plan and beautiful plate, you have the liberty to choose according to your will. You can serve this cake with whipped cream, chocolate or caramel syrup or maybe some nuts to make it more palatable. The cake may also be served as a dessert for brunch or as an evening snack. The preparation time of the yogurt cake is around 60 minutes, and you can either serve it warm or after cooling it in a refrigerator.
Ingredients for  Yogurt Cake
1 1/4 cups plain flour
1/4 ground almonds
1 teaspoon baking powder
1/2 teaspoon baking soda
1/2 teaspoon salt
Lemon zest (optional)
2 large eggs, at room temperature
1/2 cup vegetable flavorless oil
3/4 cup plain yogurt, at room temperature
1 teaspoon vanilla essence
1 cup granulated white sugar
How to Make Yogurt Cake
The first step is to preheat the oven 350˚ F (180˚ C) and put the oven rack in the center of the oven. Take 8-inch baking or a springform pan and butter or lightly oil it. Then put a parchment paper at the base to avoid the cake from sticking to the pan.
Take a large bowl and transfer the plain flour in this bowl. Then add the ground almond into it which can be directly bought or processed at home in a food processor. You have the choice to replace almond with any other nut or maybe you can omit this ingredient. Add the baking powder, baking soda and salt in the dry mixture. Then take a washed lemon and take off the lemon zest (yellow part) into this mixture with the help of a grater. Mix the dry ingredient and take another large bowl.
Add two eggs and stir them in this bowl. Add yogurt, flavorless oil, vanilla extract and sugar while stirring this mixture. After fairly mixing this egg batter, pour it into the dried mixture and stir it well. In this step, you can add nuts, chocolate chips, or berries. Then pour the mixture into the baking pan and put this pan into the preheated oven.
Bake it for about 40-45 minutes and check the cake by inserting a toothpick. If it's clean, then remove the cake from the oven and let it cool for about 10 minutes. Serve the cake with ice cream, whipped cream, chocolate syrup, or yogurt.
Enjoy this delicious and easy to make dessert!
To see the original recipe that inspired this one, check out the recipe for Yogurt Cake found at Joy of Baking.