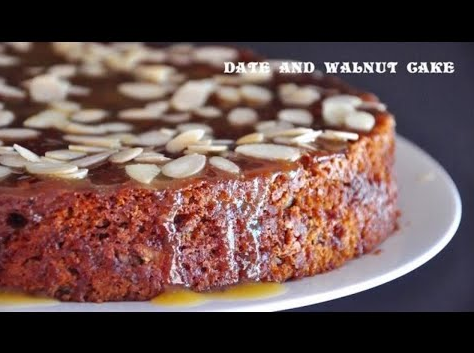 You are going to love this scrumptious, old-fashioned, flavorful, and appetizing recipe with lovely, light and moist texture. This is the perfect recipe with low fats for your winters and it is a healthy alternative to traditional fruit cakes. The recipe is easy to make and can be served in any gathering or daily routine. The dates and walnuts used in the recipe are the sources of antioxidants and they help to maintain your blood sugar level. The fruits boost the activity of your brain and make your bones stronger. The recipe ingredients can be easily found in your kitchen cupboard or refrigerator. The cake can be served to eight to ten family members.
It reminds me of my grandma, and she always preferred this cake recipe due to its health benefits, taste, and flavor. This is a must for every special occasion in our home. My grandma always inspires me for the special and healthy recipes that she discovers for us. Now I am sharing this wonderful and the best recipe with you and suggest you try this recipe and enjoy it with your family.
This date and walnut cake can be served on a simple plate and try to use a light-colored plate; it will enhance the dark color of your cake. For the dressing, you can use some extra nuts or dates, and if your kids like cream, you can add it too. The preparation time of this delectable and appetizing cake is 40 minutes.
Ingredients for  Date and Walnut Cake
1 cup chopped dates
1.25 cups boiling water
1 teaspoon baking soda
1/2 cup softened butter
1 egg
1 teaspoon vanilla
1.5 cups flour
1 teaspoon baking powder
1/2 teaspoon salt
1/2 cup walnut or cashews
For Icing
5 tablespoons brown sugar
5 tablespoon cream
2 tablespoons butter
5-1 cup flaked almonds
How to Make Date and Walnut Cake
Preheat the oven up to 176˚C or 350˚ F and lightly oil the 9 x 12 inches pan. Dust flour on the pan and shake off the excess flour. Line the baking pan with parchment paper.
Chop the dates in a bowl and add baking soda, hot water. Let this mixture sit for a while. Add butter and sugar to another bowl and whisk it with an electric mixture. Next, add vanilla extract, egg and beat the mixture well. In another bowl, take flour, baking powder, salt, and stir the mixture. Then add the egg mixture in it and mix it thoroughly. Now pour dates mixture in it and mix the batter well. In the end, add chopped walnuts to this mixture and mix them. Pour this batter in the prepared baking pan. Bake the cake for 25-30 minutes until the top becomes golden brown. Then insert a toothpick into it, check if the toothpick comes out clean. Transfer cake onto a plate and prepare the icing for the cake.
In a small bowl, take butter, cream, and brown sugar and boil it for 2-3 minutes until it becomes thick. Pour the mixture over the cake and sprinkle almonds or other nuts over the top of the cake.
The delicious date and walnut cake is ready to eat!
To see the original recipe that inspired this one, check out the recipe for Date and Walnut Cake found at Recipes are Simple.