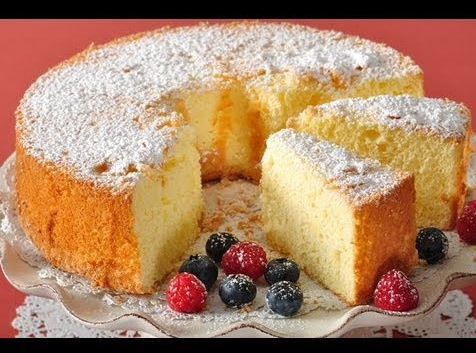 The American sponge cake is a delicious, delectable, sweet, and moist cake with a soft and spongy texture. This is the recipe designed for everyday routine, or you can use it as a dessert for different occasions. The cake is easy to make and, you can make it on your busy day by looking the ingredient from your kitchen cupboard or refrigerator. This is the best recipe if you are looking for a simple and spongy textured cake. It can be served in six to eight family members.
The cake reminds me of the picnic on another beautiful day. My mom made this for our outing; my husband and kids enjoyed the cake so much. Now, whenever we go to a picnic, my kids and husband always ask for this cake recipe. Now it's named as picnic cake at our home, and I also suggest you try this at home.
The cake can be served on a plain plate, or it's your own choice. For presentation, you can use fruits, whipped cream, nuts, or maybe caramel if you like. Fruits and cream really compliment with this scrumptious and appetizing cake recipe. The preparation time of the cake is 40-50 minutes.
Ingredients for American Sponge Cake
6 large eggs, yolks and whites separated
1 cup sifted or plain cake flour
1/4 teaspoon salt
1/4 teaspoon baking powder
1 cup white granulated sugar
1 teaspoon vanilla extract
2 tablespoon water
Lemon or orange zest
3/4 cream of tartar (another option is vinegar)
How to Make American Sponge Cake
The first step is to preheat the oven at 180˚ C (350˚ F) for 15-20 minutes. Take 10-inch or 25cm, 2 piece tube pan, and do not grease this pan. Separate the egg whites and yolks and bring the eggs at room temperature for about 30 minutes.
In a separate bowl, get ready your dry ingredients. Take plain flour, add salt and baking powder in it and, stir the mixture. Set it aside. Add egg yolks and 2/3 cups of white granulated sugar in a bowl of the electric mixture (3-5 minutes). Then beat this mixture at high speed until it becomes light-colored and fluffy. It will be ready when its ribbons start to form. Then add water, vanilla extract, and lemon zest of a washed lemon into the mixture. Beat the mixture again, starting from slow to high speed.
Then take out the mixture in another bowl and add egg white in the electric mixer bowl. Whisk the egg whites to just break them up. Add some cream of tartar or vinegar and whisk it until you have soft peaks. Then add 1/3 cup of the remaining sugar slowly into the egg whites while beating. Beat until the sugar gets dissolved.
Then, slowly add flour mixture using the strainer in the egg yolk mixture while mixing. Next, add egg whites in it and mix it fairly and gently. Pour this cake mixture into the baking pan. Shake the mixture to remove air bubbles in it. Bake the cake for 30-35 minutes until you insert a toothpick in it and it comes out clean.
Remove the cake from the oven and invert the pan upside down by suspending the inner tube on a small bowl. Let the cake cool down at room temperature and run the flat knife at the sides of the cake to remove the cake. Invert the cake on a plate or a greased wire rack. Cut it into pieces, and it can be served with whipped cream, fruits, and by dusting powdered sugar on it. You can either serve this cake immediately or can store it for a few days.
To see the original recipe that inspired this one, check out the recipe for American Sponge Cake found at Joy of Baking.