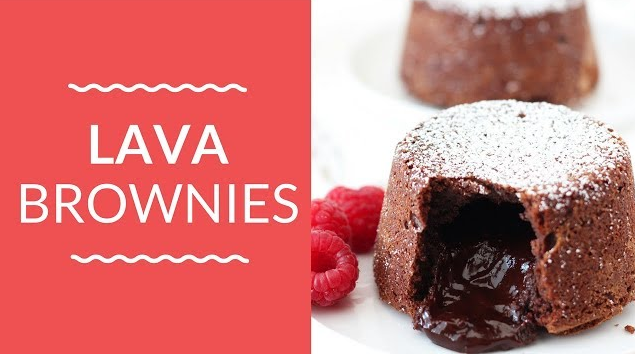 Lava Brownies are the ultimate favorite when it comes to chocolate desserts. Rich, chewy, gooey and yummy with a ton of chocolate flavor this foolproof recipe is everything you need to show off in front of your friends.
Basically, there aren't enough words that can describe how great this lava brownies are. The best part of the recipe that it combines lava cake and brownies together in just one recipe. Molten lava cake in the middle, chewy and gooey brownies on the outside, just match made in heaven.
One of the favorite things is that it can be made in advance. You can prepare the lava mixture ahead of time, freeze it and use it while it's needed, and the rest of the batter ( to be specific brownie batter) is prepared in less than 5 minutes in a single bowl just with a help of a spatula.
Try this ultimate chocolate dessert with a minimum of effort and enjoy the beautiful taste!
Ingredients for Lava Brownies 


For the chocolate lava:
1 cup (170 grams) semisweet chocolate chips
1/3 cup heavy cream
1 tablespoon unsalted butter
For the brownies:
1 cup (170 grams) semisweet chocolate chips
1 1/2 sticks (170 grams) unsalted butter, cut into pieces
4 ounces (113 grams) unsweetened chocolate, chopped
1 1/2 cups (300 grams) granulated sugar
3 large eggs plus
1 egg yolk
1 teaspoon vanilla extract
3/4 cup (94 grams) all-purpose flour
1/4 teaspoon fine sea salt
Fresh raspberries, for serving

How to Make Lava Brownies 
Preheat your oven at 350 F or 180 C.
To prepare the chocolate lava, in a large bowl place in chocolate chips, butter and pour in hot heavy cream. Let it sit for about 2 minutes and stir well until fully melted and well incorporated. Let it chill in the freezer for about half an hour. With the help of an ice-cream scoop, scoop out some balls and set aside.
To prepare the brownie batter, add chocolate chips, butter, and chopped chocolate in a large mixing bowl. Let it melt in microwave and stir well.
In another bowl add in eggs + 1 egg yolk and granulated sugar. Whisk until fluffy and smooth. Add in some vanilla extract and melted chocolate mixture. Mix well and sift in the dry ingredients: flour and salt. Mix well and transfer the batter in already sprayed jumbo muffin cups. In each cup insert of the already prepared lava cakes ( chocolate ganache).
Bake for about 25 minutes. Let them cool before removing from the cups and serve with few raspberries.
To see the original recipe that inspired this one, check out the recipe for Lava Brownies found at Handle the Heat.