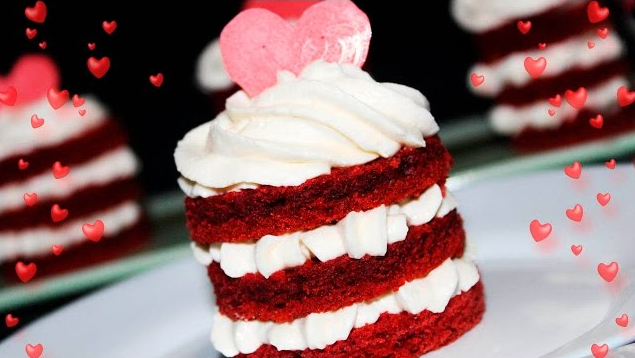 If you are looking for something special to prepare for your loved one, this is the recipe for you – Red Velvet Mini Cakes.
Instead of rolling some red velvet roulade or preparing a huge red velvet cake, why don't you make individual mini red velvet cakes? They are just so romantic and elegant to serve for your love.
My version is with three layers of red velvet sponge cake and delicious and so classy cream cheese frosting that is so easy to prepare.
I am a huge fan of making and serving mini and individual versions of the most famous cakes, including Red Velvet Cake. I think that the way people can feel that you made the whole recipe for themselves and in my opinion it is more personal.
Enjoy this delicious and delectable recipe with cream cheese frosting in the middle, with beautiful flavor from the strawberry jam and rich and moist red velvet cake. Just a match made in heaven.
Ingredients for Red Velvet Mini Cakes 
340 g. flour
300 g. granulated sugar
1 tablespoon of cocoa powder
¼ teaspoon of salt
2 teaspoons of baking powder
1 teaspoon baking soda
3 eggs, at room temperature
1 teaspoon of vanilla extract
280 g. unsalted butter
280 g. plain yogurt
2 teaspoons red food coloring
50 g. white chocolate
strawberry jam
Classic cream cheese frosting

How to Make Red Velvet Mini Cakes 
Preheat your oven to 350 degrees F or 180 degrees C.
In a large mixing bowl with the help of a wire whisk beat in the eggs, sugar and vanilla extract. Add in yogurt and melted butter and whisk until combined.
In a separate bowl combine together the dry ingredients: flour, cocoa powder, salt, baking powder, and baking soda. Whisk until combined and add it in the bowl with wet ingredients. Add in the red food coloring.
Transfer the whole batter in the buttered cake tin. Bake for about 45 minutes.
Melt the white chocolate over a pot with simmering water. Add food coloring and transfer the colored white chocolate in a piping bag. Form heart shapes for decorating and let them cool completely so they can harden up.
Let the cake cool and cut it in several layers.
Fill your piping bag with a classic cream cheese frosting and start to assemble red velvet mini cakes. In the middle of each sponge cake spread a little bit of the strawberry jam and pipe out cream cheese frosting on the edges.  Decorate each mini cake with chocolate heart.
To see the original recipe that inspired this one, check out the recipe for Red Velvet Mini Cakes found at Tasty Cooking Recipes.