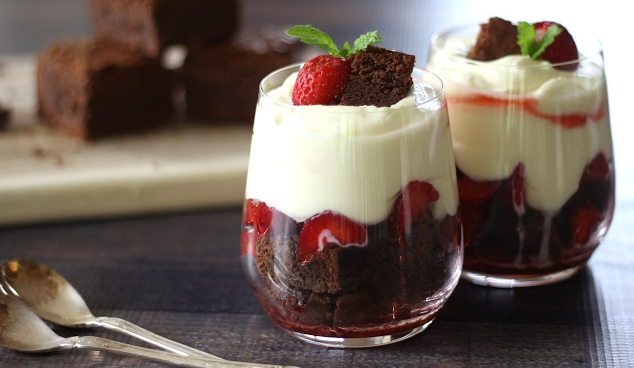 This recipe is filled with refreshing strawberries, chocolate brownies, strawberry syrup, and cream cheese filling. It's absolutely delicious and it is always a huge hit when you want to serve something elegant and sophisticated in front of the guests.
Homemade parfaits are just easy recipes to be put together and to serve something fast but incredibly delicious at the same time. You can use store-bought brownies or making your own from scratch, but the easiest part of the recipe is whipping up the cream together.
The recipe goes well with leftover brownies, and yes here the cheating is acceptable because when you soak the leftover brownies in the strawberry syrup, you will defiantly get something that is rich and moist, perfect for recipes like this.
The cutest part is serving. I really like when I serve parfaits in medium tall glasses and bring some great presentation by garnishing it with a mint leaf.
Enjoy this simple but delicious and easy to make dessert!
Ingredients for Brownie and Strawberry Cheesecake Parfait 
250 g. fresh strawberries
2 Tablespoons of Sugar
125 g. cream cheese
2 tablespoons of Icing Sugar (powdered sugar)
¾  cup (200ml.) heavy cream
2-3 Brownies

How to Make Brownie and Strawberry Cheesecake Parfait
Cut each strawberry into quarters and place them in a small bowl. Sprinkle them with few tablespoons of granulated sugar and set aside.
In a small bowl place in the cream cheese and add in icing sugar and stir well until combined.
Whip up some heavy cream with a hand mixer until soft peaks forms and add in the cream cheese filling. Whisk all together until well combined and fully incorporated.
Cut out small bites from the brownies and place them on the bottom of a couple of glasses. Top them with strawberries and realized strawberry juice in the bowl. Lastly, top with a cheesecake filling.  Let them cool a little bit and serve them with fresh mint and fresh strawberries.
To see the original recipe that inspired this one, check out the recipe for Brownie and Strawberry Cheesecake Parfait found at Recipes by Carina.