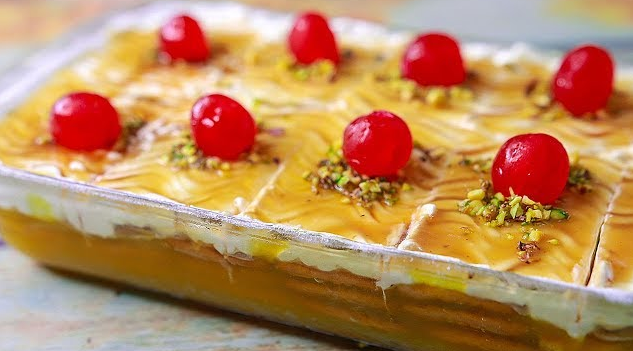 I know that a lot you guys out there always you are looking for some delicious recipes that are made in less than 15-20 minutes. If so, you are on the right place and this recipe is going to be your all-time favorite after you try this out.
We all know that custard is made with eggs and milk, but this recipe calls for orange juice instead of milk for more intense flavor and smooth consistency.
While choosing what kind of tea biscuits you want to use, I will say Graham Crackers will work just as well as any other kind of dried tea biscuits. All you need is to soak them in milk and lay them down in a serving dish.
This recipe is proof that the greatest recipes of all time have just a few ingredients.
The whole cake ends with fluffy whipped cream, gooey caramel sauce, crunchy pistachios and candied cherries and coconut on top. What a treat for the upcoming guests, right?
Ingredients for Orange Custard No Bake Biscuit Cake 
2 cups (500 ml.) orange juice
1 teaspoon of sugar
2 tablespoons of custard powder
any kind of tea biscuit
milk as needed
¼ cup of whipping cream
caramel syrup
pistachios
cherries
coconut powder
How to Make Orange Custard No Bake Biscuit Cake 
In a measuring pitcher add in orange juice, sugar and custard powder. Mix well, transfer the whole mixture in saucepan and bring it to a boil, whisking constantly until it thickens.
Dip each tea biscuit in milk and place them in a dish for layered no bake cakes. On top of the desserts, pour in some custard and repeat the process again and again until you finish with the custard and tea biscuits. On top of the cake spread some whipped cream and decorate the cake with caramel syrup, pistachios, candied cherries, and coconut powder. Let it cool completely and serve.
To see the original recipe that inspired this one, check out the recipe for Orange Custard Slice No Bake Biscuit Cake found at Yummy.