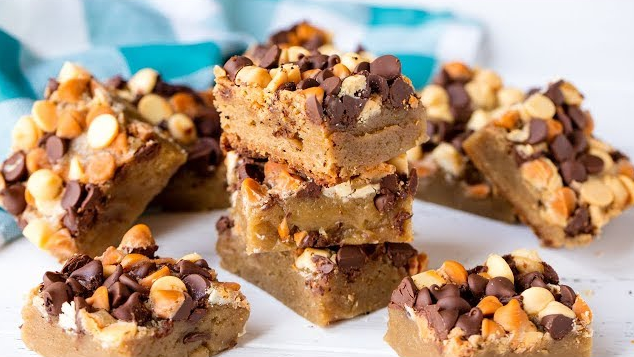 Have you ever thought to try oven-free chocolate chip cookie bar recipe? If you have a slow cooker this recipe is just made for you.
When you need to run out of your home or don't have time to spend in the kitchen, just make this brownie-like or to be a specific blondie like cookies and you will be the happiest person on this planet.
The whole aroma from baking will stick to the chocolate chip cookie bars and you will have a true flavorful dessert on your hand.
Also, the recipe is versatile instead of chocolate chips you can use a combination of dark and white chocolate chips, butterscotch, toffee bites or any other favorite candy chopped into small bites.
Having the best flavor from the butter and caramel taste from the brown sugar, these chocolate chip cookie bars are a real treat for the whole family.
Ingredients for Slow Cooker Chocolate Chip Cookie Bars
1 cup butter, melted
2 cups light brown sugar, tightly packed
3 tsp vanilla extract
2 eggs
¼ tsp salt
2 cups flour
1 cup chocolate chips
How to Make Slow Cooker Chocolate Chip Cookie Bars
Line your slow cooker with aluminum foil and spray it with cooking spray.
In a large mixing bowl, whisk melted butter and light brown sugar with vanilla extract. Then, add in eggs, whisk until combined and add in salt, flour and chocolate chips. Mix well and pour the whole cookie mixture in the slow cooker covering the whole surface. Layout paper towel and cover the lid. Cook on high for 2 and a half to 3 hours until the middle is set. Remove from slow cooker and let it sit a minimum of 1 hour before slicing. Serve in a decorative plate.
To see the original recipe that inspired this one, check out the recipe for Slow Cooker Chocolate Chip Cookie Bars found at The Stay At Home Chef.