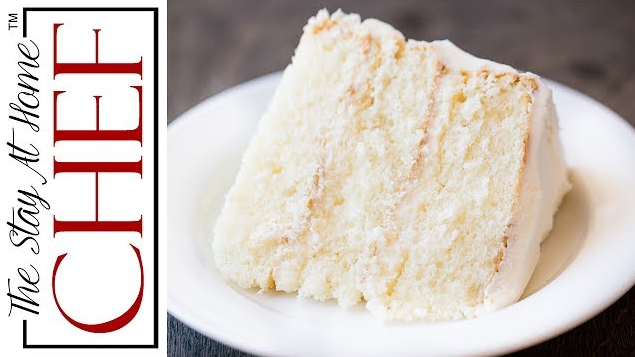 Preparing white cakes is more delicate than preparing chocolate cakes, but when you will master the art of making them, they are just absolutely perfect for presentation.
The key ingredient that makes this White cake be just most amazing, is butter. It brings so much flavor to this cake and also brings great texture to the cake.
It is moist and it has the perfect crumb that makes this cake the most amazing white cake you will ever try! The crumb of the cake comes from the cake flour that is different than all-purpose flour, basically, it is just regular plain flour with cornstarch added in and the good news is that you can make it on your own at home.
This cake is perfect for a home wedding or just bake it off for home entertaining with family and friends. It is best served with vanilla frosting or buttercream.
The key for being extra white in this cake vanilla extract is substitute with almond extract. It also brings a beautiful flavor to the cake.
Ingredients for Most Amazing White Cake 
1 cup salted butter, softened
1 1/2 cups sugar
2 teaspoons almond extract
3 1/2 cups cake flour
4 teaspoons of baking powder
1/2 teaspoon salt
6 large egg whites, room temperature
1 1/2 cups milk, room temperature

How to Make Most Amazing White Cake
Preheat your oven to 350 degrees F or 180 degrees C and butter three 9 inch round cake tins. Line with parchment paper each of the cake tins.
In a large bowl place in the softened butter and granulated sugar. Mix with hand mixer until well incorporated and mixed through. Add in the almond extract and mix until combined.
In a measuring pitcher with for mix well milk and egg whites. In another bowl combine together the dry ingredients – flour, baking powder, and salt.
Back to the butter mixture add in dry and wet ingredients alternating them. Start with the dry ingredients and then add in wet ingredients.
Divide the batter evenly in three pans smoothing them out with the help of a spatula.
Bake for about 25 minutes until golden on top and cook through. Fill the whole cake with vanilla buttercream.
To see the original recipe that inspired this one, check out the recipe for White Cake found at The Stay At Home Chef.