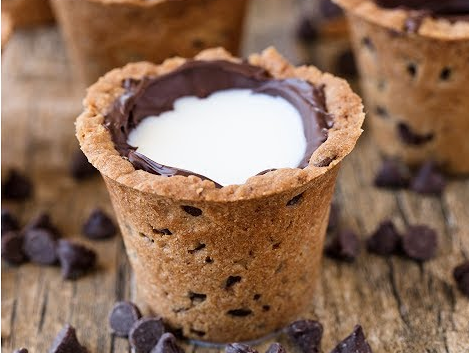 Who doesn't love milk and some cookies before to go to bed or have them for breakfast? These cookie cups are so rich, decadent and so fun to eat.
For the best shape – cup shape you will need popover pan and it really works the best for this recipe, but muffin tin will work just as well.
Coating them with chocolate prevents the cookie dough to soak up so fast so your "glass of milk" will break down in the middle of drinking.
You need to give this one a try! No matter who it will be, your guests, your kids or loved one, I assure you that recipe for everyone's taste. You can fill this with milk or your favorite beverage. The options are limitless and you can get as creative as you wish.
They are also perfect for parties and for any kind of entertaining.
Ingredients for Chocolate Chip Cookie Shots
1 cup all vegetable shortening
½  cup brown sugar
1/3 cup granulated sugar
1 egg, at room temperature
2 teaspoon vanilla extract
½  teaspoon  salt
2 cups of all-purpose flour
2 cups semi-sweet mini chocolate chips, divided
How to Make Chocolate Chip Cookie Shots
First, preheat your oven to 350 degrees F or 180 degrees C.
In a large mixing bowl with the help of a hand, mixer beat in vegetable shortening with brown and granulated sugar. Then add in egg, vanilla extract and the dry ingredients – salt, flour, and mini chocolate chips. Mix until well incorporated and transfer the dough in a popover pan. Use your fingers to press it on the sides on the bottom of the pan. Bake them for about 18-20 minutes. Melt some semi-sweet chocolate and coat each cooled cups. Let them cool again so the chocolate can harden and pour in some of your favorite drink such as milk.
To see the original recipe that inspired this one, check out the recipe for Chocolate Chip Cookie Shots found at The Stay At Home Chef.