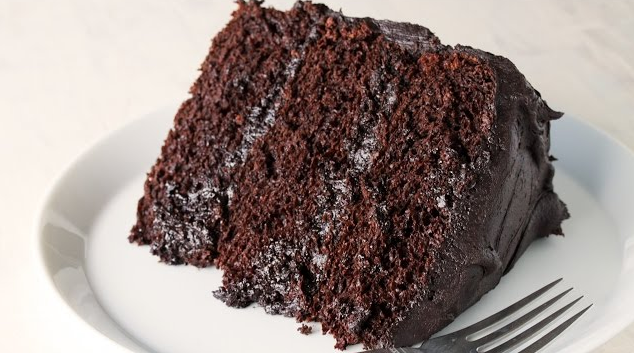 Chocolate – ingredient that makes us all going nuts for!
You have probably tried out some delicious white cakes, red velvet cakes, caramel cakes and many more… but we all must admit that when it comes to chocolate cakes there is no doubt that they are the best of the rest.
With the chocolaty and moist sponge cake and delicious chocolate cream cheese frosting this is just the perfect dessert for every chocoholic out there.
So, if you have been searching for the best chocolate cake recipe so far, you finally found it. When you will try the recipe, you will make it over and over again. Trust me is that good!
Cream cheese frosting gives a texture to the cake and it makes perfect for birthdays or weekends BBQ's. The great thing is that you can make it in advance and keep it in the fridge up to 2 days before applying on the cake.
There is one thing that I am sure of. With an insanely good cake like this your guests will ask for another but bigger slice!
Ingredients for Most Amazing Chocolate Cake
butter and flour – for coating and dusting the cake pan
3 cups all-purpose flour
3 cups granulated sugar
1½ cups unsweetened cocoa powder
1 tablespoon baking soda
1½ teaspoons baking powder
1½ teaspoons salt
4 large eggs
1½ cups buttermilk
1½ cups warm water
½ cup vegetable oil
2 teaspoons vanilla extract
For the Cream cheese buttercream frosting:
1 ½ cups butter softened
8 oz cream cheese, softened,
1 ½ cups unsweetened cocoa powder
3 tablespoons of vanilla extract
7-8 cups powdered sugar
¼ cup of milk, or as needed
How to Make Most Amazing Chocolate Cake
Preheat your oven to 350 degrees F or 180 degrees C. Butter 9 inch cake pans.
In a large bowl, combine flour, sugar, cocoa powder, baking soda, baking powder, and salt. Whisk to combine it and add the wet ingredients – eggs, buttermilk, hot water, and vegetable oil. Mix well until combined and divide the batter into three buttered pans. Bake in preheated oven for 30-35 minutes. Let them cool completely and prepare the cream cheese buttercream frosting. In a bowl of an electric mixer, beat in the butter and cream cheese. Add in cocoa powder, vanilla extract, powdered sugar and milk as needed. Mix until well incorporated in until it comes together.
Spread out some of the frostings in the cooled sponge cakes and build up the best chocolate cake ever.
To see the original recipe that inspired this one, check out the recipe for Chocolate Cake found at The Stay At Home Chef.