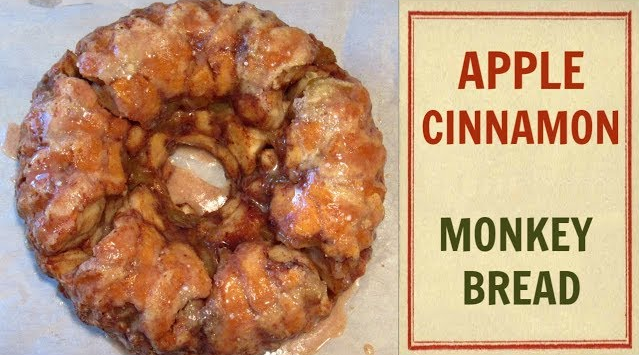 This apple and cinnamon monkey bread is just perfect for Sunday brunch, breakfast in bed or just about any occasion. It is best while it's still warm because you will feel the gooey apples with cinnamon sounded by flaky dough bites and all of that topped with a drizzle of vanilla and cinnamon glaze.
You can also make this recipe in mini muffin cups or mini bundt cake pans, but I found that this recipe is best served in a huge Bundt pan so when you will bring this dessert to the table everyone can dig in.
Instead of apples, you can use pears or any other kind of fruit you think works well with cinnamon and brown sugar.
Remember to taste it while it's still warm drizzled with a beautiful vanilla and cinnamon glaze on top.
This recipe represents the perfect holiday spirit and smells because of the apples and cinnamon.
All you need to do is to call a few friends, make this apple and cinnamon monkey bread recipe and enjoy.
Ingredients for Apple and Cinnamon Monkey Bread 
For the apple filling:
21 oz canned apples
1 tablespoon of flour
2 tablespoons of melted butter
1 teaspoon of cinnamon
1 teaspoon of vanilla extract
½ cup of light brown sugar
Dough:
4 cans of biscuits dough
Glaze:
1 cup of icing sugar
¼ teaspoon vanilla extract
1 ½ teaspoon cinnamon
2-8 tablespoons of milk

How to Make Apple and Cinnamon Monkey Bread 
Preheat your oven to 350 degrees F or 180 degrees C.
In a bowl combine together canned apples, flour, melted butter, cinnamon, vanilla extract, and brown sugar.
Cut out some dough in small chunks and place them in a bowl where the other ingredients are. Coat them with the apple filling and place them in well greased Bundt pan.  Bake for about 50-60 minutes and let it cool slightly. Remove it from the Bundt pan and prepare the glaze which you will put on top of the Bundt cake.
In a small bowl mix together icing sugar, vanilla extract, cinnamon, and milk. Whisk until smooth and drizzle on top of the Bundt cake.
To see the original recipe that inspired this one, check out the recipe for Apple and Cinnamon Monkey Bread found at LeighsHome.