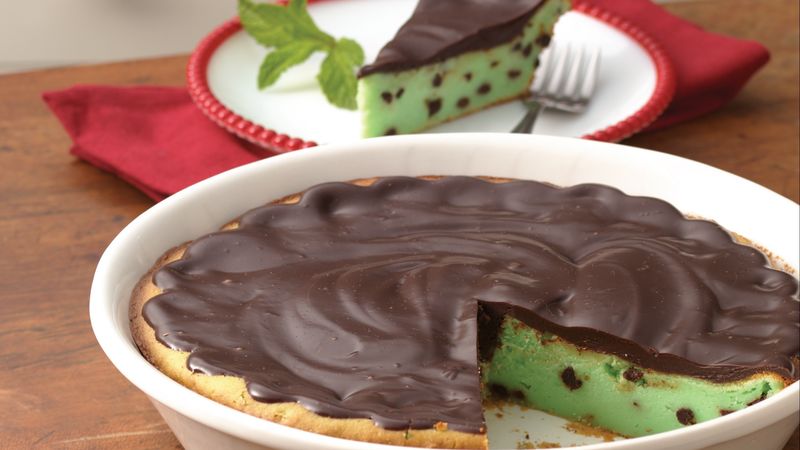 This easy-to-make Grasshopper Cheesecake will be your go-to recipe for St. Patrick's Day. The creme de menthe gives a perfect hue of green color to the cheesecake, at the same time provides a sweet and minty flavor. The chocolate chips are a nice surprise to every bite together with the chocolate ganache on top.

Ingredients for Grasshopper Cheesecake
For the Cheesecake:
3/4 cup Original Bisquick™ mix
3/4 cup sugar
1/4 cup green creme de menthe
3 large eggs
2 packages (8oz) cream cheese, softened
1/4 cup semisweet mini chocolate chips

For the Chocolate Ganache:
1/2 cup whipping cream
1 cup semisweet mini chocolate chips

How to Make Grasshopper Cheesecake

Preheat the oven to 350°F and grease a 9-inch pie plate with cooking spray.

In a large bowl, beat cream cheese and sugar at high speed. Add eggs and creme de menthe, and Bisquick mix and beat for 2 minutes. Scrape the sides of the bowl and once the mixture is fully incorporated, fold in the chocolate chips—transfer mixture into the prepared pie plate.

Bake for 35 minutes or until the center is firm. Allow the cheesecake to cool down for about 45 minutes.

In a saucepan, combine whipping cream and chocolate chips. Melt over medium heat while continuously stirring. Once the mixture is smooth, remove from heat.

Spread the chocolate ganache over the cheesecake. Put in the fridge for at least 3 hours until set. Serve and enjoy.

To see the original recipe that inspired this one, check out the recipe for Grasshopper Cheesecake found at Betty Crocker.