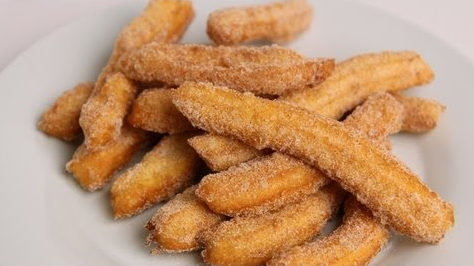 Churros have its origin traced back to Spain, where they were made for Spanish shepherds as an alternative to baked products. They are commonly served as breakfast and accompanied by some kind of sauce such as chocolate ganache, which will be used for dipping. Churros contains flour, eggs, sugar and butter as it's primary ingredients and just like the Spanish shepherds, it's a good recipe to fall back on when you want some pastry that is neither cake nor doughnut.
Back in the days, every christmas eve, my mom who is now an invalid grandma, would make large twirls of churros for neighbours and a family of 5 children, 2 or 3 uncles/aunties, herself and my dad to enjoy with tea. She used to have a lot of flour at home and would use about 500g for the churros. Most times, we drank the tea first or last while breaking and eating parts of the churros as we prepare our house for Christmas.
Churros use the most available ingredients and so, do not incur huge costs. The dough can also be made into different shapes while they are fried, and children particularly enjoy the variety that it comes with.
Ingredients for Homemade Churros
1 ½ cup of water
5 tablespoons butter, unsalted
2 tablespoons vegetable oil
1 ½ tablespoons granulated sugar
1 leveled teaspoon salt
2 cups of flour
1 ½ teaspoon vanilla extract
7 eggs, cracked in a bowl
4 cups of canola oil
1 cup of cinnamon sugar to coat the churros
How to Prepare Churros at Home
Pour 1 ½ cup of water, 5 tablespoons butter, 2 tablespoons vegetable oil, 1 ½ tablespoons granulated sugar and 1 teaspoon salt into a medium-sized, deep and non-stick saucepan. Turn on cooker and set the heat level to medium. Also, set the filled pan on the cooker and allow its content to boil.
Once it's boiled, reduce the heat level and gradually add the stipulated amount of flour, continuously stirring to avoid unnecessary lump formation. Cook for about 2 minutes and continuously stir the mixture until the dough comes together. Remove the saucepan from the cooker and into another deep pan placed on the cooker at low heat, pour 3-4 cups of canola oil to be used for deep frying.
Turnover the formed dough into the bowl and add and 1 ½ teaspoon liquid vanilla extract. Mix the vanilla properly into the dough and leave to cool. After cooling, properly mix the eggs into the dough, adding one egg a time. Once done with the mixing, set the dough aside, pick your piping bag, fix a star tip (or simple round tip) into it and scoop into the piping bag just as much dough as you can handle at a time.
The canola oil should be hot by now. Increase the heat level to medium and test the readiness of the oil. To do this, pipe about 4 inches of churros dough into the oil. Bubbles should appear over the dough if the oil is hot and ready. Otherwise, leave oil for a couple more minutes.
Once the oil is tested and ready, pipe about eight 4- 5 inches long or ring like churro dough into the hot oil and cook for a few minutes on each side or until they look golden brown. After frying, put the churros on paper towels to remove excess oil and then dip them in a bowl or plate of cinnamon sugar.
Fry and dip the churros in sugar until all dough is exhausted, and all churros in covered with sugar. Serve with any beverage of your choice.
To see the original recipe that inspired this one, check out the recipe for irresistible homemade churros found at
Laura in the Kitchen