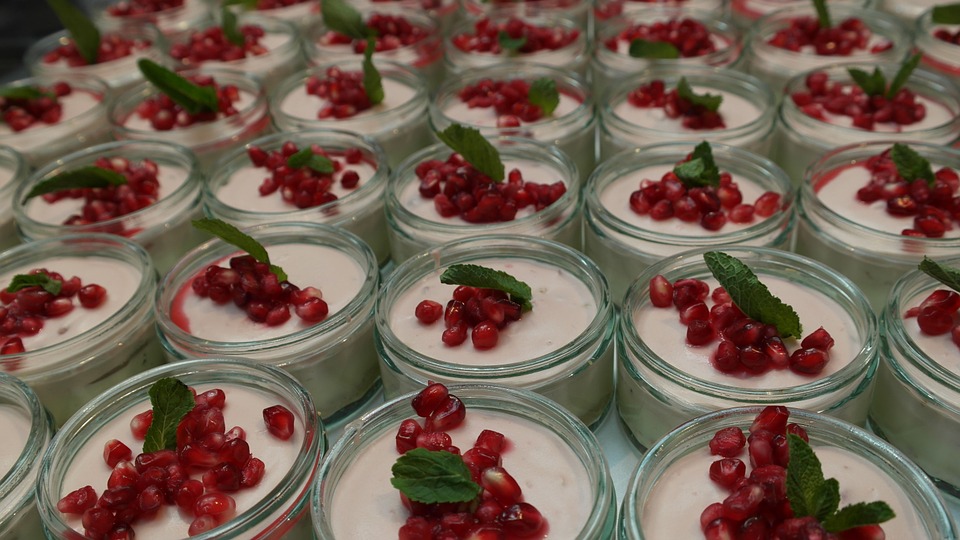 This is a colorful and gorgeous lemon mousse with pomegranate that will make any dinner party light up. A perfect dessert for the summer days with its refreshing and creamy taste. Spoon into 6 serving dishes to satisfy your family. But I highly doubt just one portion will be enough for one person, because I guarantee they will want seconds, so you better prepare a second or third batch just in case. You can put them in the fridge to serve the next day. 
My family loves lemon, especially my kids. So, I wanted to make something that's a little different from what I usually serve, which always tastes sweet. I know this will put a smile on their faces, especially that this mousse is so pretty to look at.
Place them in the fridge for at least two hours before servings because chilled is the best way to serve them. If you like coffee, it's a great pair for this mousse; tea also works great. If you want it sweeter, you can always add more honey on the process, don't be afraid to modify the recipe a bit so you can really enjoy them.
Ingredients for Lemon Mousse with Pomegranate
1 14-ounce package extra-firm tofu
2 tablespoons honey
1 cup cashews
1 pomegranate
½ cup plus 1 – 2 tablespoons lemon juice
¼ cup brown sugar
zest from one lemon
How to Make Lemon Mousse with Pomegranate
Start by soaking the cashews in ½ cup lemon juice for 1-2 hours. Remove arils from the pomegranate. To get the yellowy flavor off the lemon, use a zester. You can use a potato peeler if you don't have one, but you'll also want to dice it up. Blend the soaked cashews in a blender with lemon juice, zest (save some for garnishing but optional only), tofu, brown sugar, and honey. 
If needed, add extra lemon juice or non-dairy milk a little at a time to get the ingredients moving around. Use as little liquid as possible. Put into serving dishes, top with pomegranate arils, and refrigerate until set and chilled (about 2 hours). Serve and enjoy.
Note: If you have small openings serving dishes, spoon the mousse into a large Ziploc, snip ¼ inch off one corner, and pipe into them.
To see other recipes for Lemon Mousse with Pomegranate, check out: 
https://www.waitrose.com/home/recipes/recipe_directory/p/pomegranate-honeymousse.html
https://www.laylita.com/recipes/honey-mousse-with-pomegranate/
https://pineandcrave.com/2016/01/06/vegan-lemon-mousse-with-pomegranate-flair/