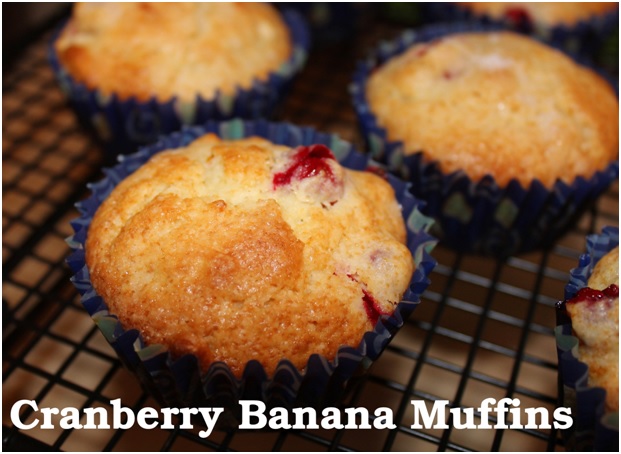 I've been losing my mind over how many exceptionally good recipes there are out there. There's literally an infinite number of recipes that all taste differently, but are still good tasting.
Muffins are becoming tradition, they're one of the most common sweets people eat nowadays. Not without reason, though, they're delicious, even as just a plain old muffin. But, the trick is to add different flavors to it.
People add all kinds of things on muffins. I've seen nuts, chocolate, pecans, berries, Nutella, and more. This recipe will introduce you to the goodness of cranberries and bananas on muffins. I doubt you've tried this one.
The trick with this one is to use ultra-ripe bananas. Those spotty bananas that have been sitting on your counter forever? Yeah, those will serve this recipe best. They're ultra-sweet.
In the 40 minutes you spend preparing this recipe, you'll be able to please 12 people with 1 muffin each, or 6 with 2 muffins each, or just yourself if you want 12 muffins.
Ingredients for Cranberry Banana Muffins
1 cup fresh cranberries

2 cups flour (8.4 ounces)

1 cup plus 3 tablespoons granulated sugar

2 teaspoon baking powder

1/2 teaspoon salt

2 eggs

1/2 cup mashed ripe banana

1 cup plain Greek yogurt (plus 2 tablespoons milk if needed)

1/4 cup avocado oil (or favorite light baking oil)

1 teaspoon vanilla extract

1/2 cup white chocolate chips (optional)
How to Make Cranberry Banana Muffins
Preheat the oven to 400°F. Line a standard 12-cup muffin tin with paper liners. If you can, do it with parchment paper muffin liners, it's much better and will leave no crumbs behind.
Chop the cranberries by cutting the larger ones in quarters and the smaller ones in half. This is gonna help you evenly distribute all the cranberries through the muffins.
Mix together the flour, granulated sugar, and baking powder, and set the bowl aside.
In a small bowl, slowly whisk the eggs until they're just combined.
Using a separate large bowl, add the mashed banana and beat until little lumps remain. Add yogurt, oil, vanilla, and the whisked eggs and beat until they're just combined.
Divide the batter evenly between 12 lined muffin cups. The batter will come almost to the top of each muffin cup, but if you want a perfect muffin top, this is key.
Place it in the oven and then bake it at 400°F for 18-22 minutes or do a toothpick test.
Cool them in the pan for 5 minutes and then transfer to a wire rack to cool completely.
To see other recipes for Cranberry Banana Muffins, check out: 
Recipe from Amy's Healthy Baking