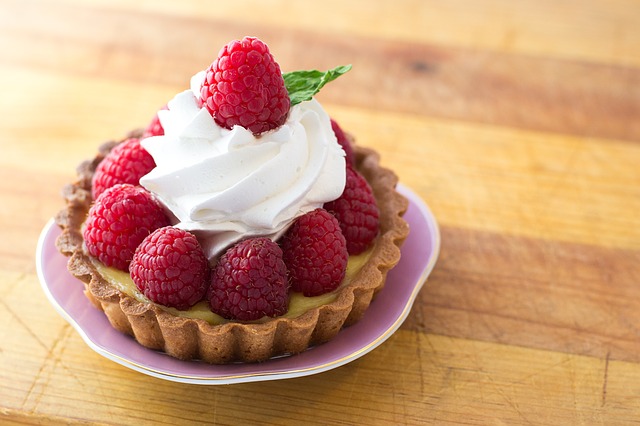 Here is a recipe that is perfect for the ones that love fruity flavors. Lemons and raspberries are not one of the common combinations. Still, the result will please you, especially when they work together in order to enhance the flavor of these individual tarts. Crunchy, creamy, and fresh, that is how you would describe them. And for the taste, you have to taste and tell with your own words!
You start with a simple butter crust, that is the perfect base for the goodness that is yet to come. The trick to making the perfect crust is to use good quality unsalted butter and vanilla extract. This is the flavor combo that will make your kitchen smell like an expensive French patisserie. Since this will certainly attract some curious family members, make sure that you bake enough for all of them.
No tart is complete without a cream that is rich with flavor. In this case, the lemon curd is the secret to making an outstanding filling for your tarts. Even the finest bakery will have no match for your homemade lemon raspberry tarts!
Ingredients for Lemon Raspberry Tart 
For the crust:
1 ¼ cup unsalted butter 
 ½ cup granulated sugar 
 1 teaspoon vanilla extract 
 ½ teaspoon salt 
 2 cups all-purpose flour
For the filling:
8 oz cream cheese 
½ cup lemon curd 
fresh raspberries for garnishing 
mint leaves for garnishing (optional)
whipped cream for garnishing (optional)
How to Make Lemon Raspberry Tart 
Preheat your oven to 325F or 160C. Prepare small tart tins.
Melt the butter and sugar together. Stir in vanilla extract and salt and mix well. Pour this mixture over the flour and, with the help of a wooden spoon, form a dough. Divide the dough into small tart tins and bake them for about 15 minutes until golden brown.
In a bowl, combine the cream cheese already softened at room temperature and lemon curd. Fill each tart shell with the filling and refrigerate for at least 2 hours. Garnish with fresh raspberries, mint leaves, and whipped cream. 
To see other recipes for Lemon Raspberry Tart, check out: 
https://www.landolakes.com/recipe/18897/lemon-raspberry-tarts/
https://noblepig.com/2012/07/raspberry-lemon-tartlets/ 
https://www.wilton.com/lemon-raspberry-tarts/WLRECIP-418.html