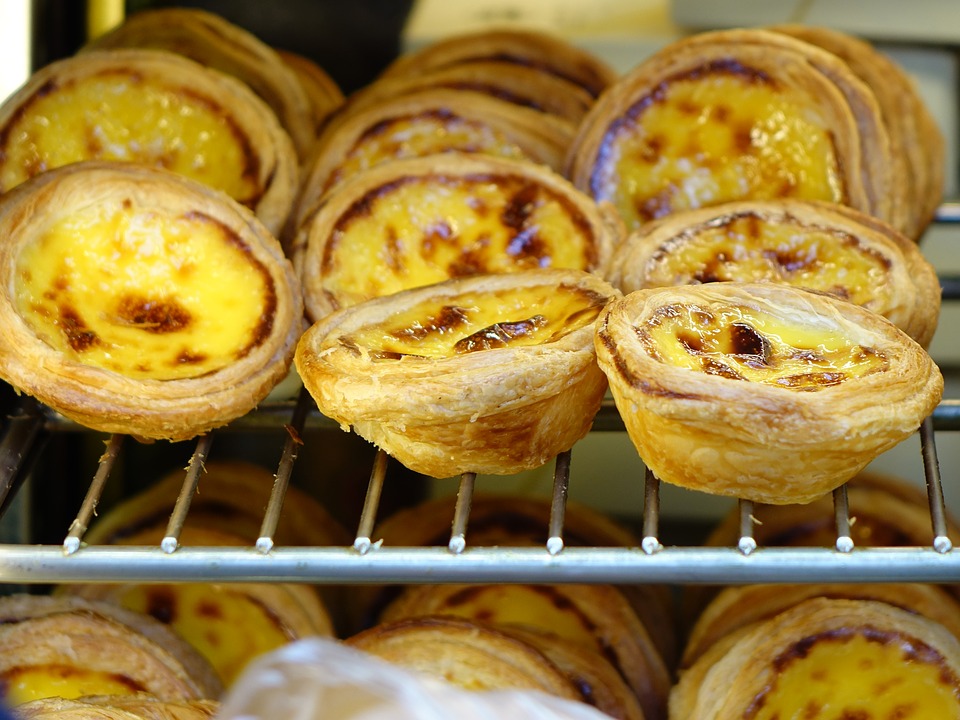 This is a typical pastry that has the power to take you all the way to beautiful and sunny Portugal. Also known as pastel de nata, this is a very traditional dish that will amaze anyone with its unique taste and texture. And with this simple recipe, you will be able to have one of the most typical Portuguese flavors in your own home. It has a crispy and crunchy crust, that is the perfect base for the thing that follows. In the center, you will be surprised to find a creamy and gooey custard cream. Crunchy and creamy, these contrasts work well together to introduce you to the best flavors that this country has to offer. 
From start to finish, you will only need one hour to complete this pastry. They can last for 2 or 3 days and need to be stored in the fridge. But, you should not worry at all because in practice they will last for no more than one day. With being so tasty and irresistible, you won't have the chance to save them for the next day. 
Ingredients for Portuguese Egg Tart 
For the pastry : 
2 cups (250 g.) cake flour 
 ½ teaspoon of salt 
 50 grams of butter
 2 tablespoons granulated sugar 
 ½ cup of water 
100 grams ghee or softened butter 
For the Filling: 
210 grams of heavy cream 
100 ml. milk 
½ cup of sugar 
2 egg yolks 
1 egg 
How to Make Portuguese Egg Tart 
Preheat your oven to 450 F degrees or 230 C degrees. Butter small tart tins and set them aside. Rub the butter in the flour until sandy. 
Dissolve salt and sugar in water and add it to the flour mixture. Mix and let it rest in the fridge for about 20 minutes. Roll the dough to 1 cm thickness. 
Spread the ghee or butter all over the pastry and fold in half and another half. Let it chill for 10 minutes and roll the dough again and fold it three times. Let it rest and repeat the process one more time. Cut out pieces of the dough and spread each piece in the individual tart tin. 
In a large bowl, mix all of the ingredients for the egg filling. Sieve it to reduce lumps in the mixture and fill each tart shell ¾ of the way full. Bake tart tins all together on a cookie sheet for about 20-25 minutes. Let them cool and serve straight away. 
To see other recipes for Portuguese Egg Tart, check out: 
https://www.bonappetit.com/recipe/portuguese-egg-custard-tarts 
https://www.yummy.ph/recipe/portuguese-egg-tarts
http://gingybite.blogspot.com/2014/10/portuguese-egg-tart.html