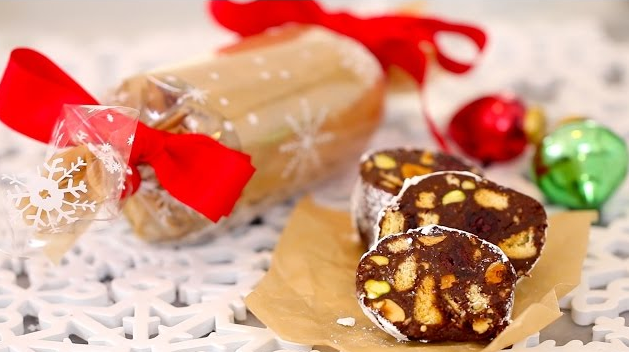 This is a simple but delicious recipe to make for the holidays and the best part is, there's no baking involved. You will get 3-4 logs of sweet and delicious biscuits, then generously cut it up to satisfy 4-6 people. It's the perfect dessert for the holidays but it's so easy to make, you basically can make anytime you want.
A friend brought this for me once and I was immediately hooked. I was even more amazed when she told me how she made it, it's so easy and simple. Today, I want to share this recipe with you so you can have a sweet and delicious dessert on your holidays with your family.
Everyone loves chocolate, but don't stop there, add a little something to this recipe and make it your own. For example, you can add a scoop of vanilla ice cream that goes with every slice, dust some powdered sugar, pour some honey or syrup.
Ingredients for Chocolate Biscuit Cake
1 cup (8oz/225g) butter
2 cups (280g/10oz) best-quality semisweet grated chocolate or chocolate chips
1/2 cups (4oz/60g) sugar
¼ cup (30g/1oz) pure cocoa powder
1 teaspoon vanilla extract
8 oz crushed biscuits(graham crackers, digestive, gluten-free OK)
½ cup (4oz/60g) toasted hazelnuts (coarsely chopped)
½ cup (4oz/60g) toasted pistachios (coarsely chopped)
½ cup (4oz/60g) cranberries (or raisin/ sultanas/cherries)
1 tablespoon grated orange zest (optional)
2 tablespoons dark rum, bourbon, orange liquor (optional)
How to Make Chocolate Biscuit Cake
In a large bowl, add the chocolate and butter then melt over a Bain-Marie on a very low flame while stirring or in a microwave. Add in the sugar, cocoa powder, and vanilla extract and mix. Next, add the biscuits, toasted nuts, fruit and citrus zest. Leave some bigger bits and some fine bits, it will give your salami a good texture. Mix all the ingredients together.
On your surface, lay cling wrap. Take some of your mixtures, roll it into a log and tightly wrap in plastic and securing the ends with twisters. You will get about 3-4 logs. Refrigerate until firm (about 3 hours). Toss it in icing sugar to decorate and wrap in twine like in the video or you can skip this step if you want, it's just an added touch. Unwrap and slice as thick as you want and serve. The salami slices will taste better when left out of the fridge for a bit.
To see the original recipe that inspired this one, check out the recipe for Chocolate Biscuit Cake found at Bigger Bolder Baking.