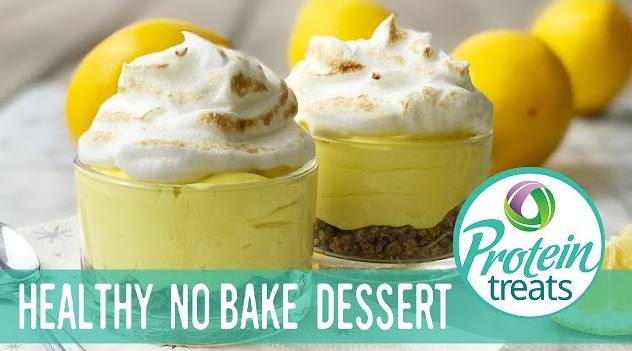 I'm willing to bet that at one time, your grandmother serve you their famous lemon meringue pie and of course, it was delicious. This recipe is the recipe for that dessert that only your grandma knows how to make and it will make about 6 servings with generous portions. You can make this dessert all year round.
Eating lemon meringue pie is one of my earliest memory with my grandma and I will always treasure it. Of course, it's delicious, but it also has that homey feeling. Just sitting on the porch with this delicious dessert or on the dinner table with everyone, it's just the best.
This dessert is already so tasty as is, but you can add your personal touches if you like. Sprinkle some colorful chopped fresh fruit, drizzle with a little bit of honey or anything that your family or friends like.
Ingredients for No-Bake Lemon Dessert
CRUST:
1/2 cup roasted flax seed (coarsely milled)
2 teaspoons cinnamon
1/2 cup melted butter (then cooled)
1/2 cup granulated sugar
1 scoop vanilla Nutra lean
LEMON CUSTARD:
1/2 cup lemon juice
4oz cream cheese (room temperature)
1 cup whipping cream (35%)
4 scoops vanilla Nutra lean
1/2 cup granulated sugar
yellow food coloring (optional)
HOMEMADE MERINGUE:
1/2 cup egg whites (4 eggs)
1/2 cup erythritol (swerve brand)
1/4 teaspoon cream of tartar (optional)
How to Make No-Bake Lemon Dessert
For the crust; combine the ingredients and mix using a spoon until crumbly. Place in dishes and gently pat down but not too firm. Lemon custard; combine the ingredients in a mixer and mix on low speed. increase the speed gradually until the custard thickens. Place in dishes on top of the crust.
Homemade meringue; combine the ingredients in a mixer and mix on low speed. Increase speed gradually until peaks begin to form. Optional step; use a small hand torch to gently brown the meringue to add that finishing touch.
To see the original recipe that inspired this one, check out the recipe for No-Bake Lemon Dessert found at Protein Treats.