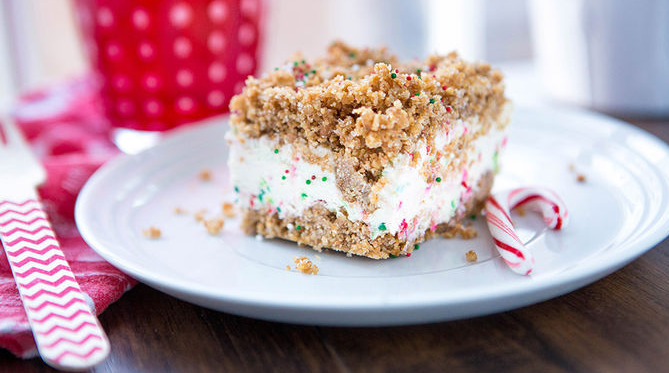 Welcome to 24 days Of Christmas Baking .. a count down to baking wonderful recipes for the family and friends to enjoy 
I love Christmas baking so I wanted to find you some recipes that I think you may love and share one with you each day ..
 Day 19

 ….

Christmas Crunch Cake 

What an amazing dessert to make that has that frozen aspect about it so good for that cooling dessert that is so easy to make .. I think I will be giving this one a go this year .. hope you really love this dessert for my choice for day 19 of Christmas baking

This great recipe has been brought to you by tablespoon.com website ,thanks for sharing this recipe with us

Here below is an excerpt about this recipe from the website plus a list of the ingredients you will need  .. happy baking

Our classic frozen crunch cake, made extra festive for Christmas with a kiss of almond that gives this dessert favorite all the flavors of sugar cookie season!
Ingredients
16 Nature Valley™ crunchy granola bars Oats 'n Honey, crushed
1/2 cup butter, melted
2/3 cup sugar
2 (8 oz.) blocks cream cheese, softened
1 (14 oz.) can sweetened condensed milk
1 (8 oz.) container extra creamy whipped topping
1/2 teaspoon pure almond extract
1 tablespoon spiced rum or vanilla
1/3 cup Betty Crocker™ Decorating Decors nonpareils (red, white and green)
Nonstick baking spray