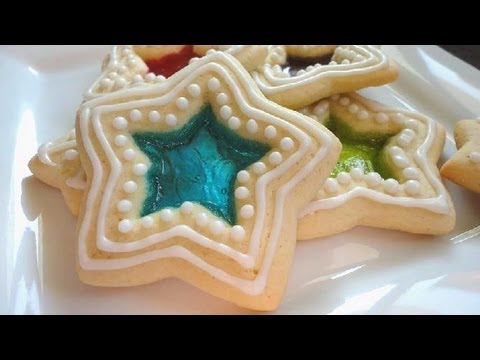 Cookies are so good to make over the festive season with the family and children So I wanted to find I cookie recipe that I think Has that fun element too and seeing as it is National Hard Candy Day why not make these stained glass cookies that use hard candy to make the stain glass effect
I really love this cookies and have made them a few times with my Grandchildren leading up to the Holidays .. they love to help make them
This great  cookie recipe is brought to you by Crouton Crackerjacks on YouTube , thanks for sharing it with us
Here below is the recipe and the video tutorial to watch both from the YouTube channel
How to make stained glass cookies! Without crushing candy. These are super easy to make, make great treats for kids and you can even poke a hole in a point and hang them from your tree. Something to keep in mind…the cookie is delicious, the candy is delicious but together, they are weird to eat. Another note: Jolly Ranchers make a clear, shiny center and LifeSavers produce a dull and opaque center. Just something to keep in mind.
What you'll need:
1 cup butter or margarine, softened
1 cup sugar
2 eggs
1 tsp vanilla
3-1/4 cups AP flour
1/2 tsp each of baking soda, baking powder and salt
In a bowl, combine flour, baking soda, baking powder and salt. Set aside. In a large bowl, cream together butter or margarine and sugar until light and fluffy. Add in eggs and vanilla and beat well. Gradually add in flour mixture and mix just until incorporated. Cover and refrigerate dough for at least an hour or until well chilled. Alternately, you can use store bought sugar cookies in a tube and roll those out. They work just as well.
Preheat oven to 375*F. Roll cookies out to 1/4″ thickness. Using a large star cookie cutter, cut out the stars. Transfer to a cookie sheet lined with aluminum foil. Using a smaller star cookie cutter, cut out the centers. Place 1 candy in each of the centers. Place cookie sheet into freezer for 10 minutes to prevent the cookies from spreading too much. Bake for 8-10 minutes or until just light brown on the corners of the cookies. Let cool completely and then remove from the foil.
For the royal icing:
1 cup powdered sugar (icing sugar)
3-4 tsp milk
Combine powdered sugar and milk until an icing is formed. You may need to add more milk or powdered sugar to make it a thin paste/thick icing for piping. Put into a zip top bag and snip off the corner to decorate.
NATIONAL HARD CANDY DAY
A favorite of young and old alike, National Hard Candy Day is observed annually on December 19.
Most hard candies are 100% sugar with flavoring and colors added. To achieve a hard candy, confectioners boil a sugar syrup to 320 degrees Fahrenheit. Once the temperature is reached, the hot pliable sugar is poured into molds or rolled and folded into shapes and left to cool. Once cool, the solid sugar becomes hardened and brittle.
The first hard candies such as lemon drops and peppermints were likely prescribed as a remedy for stomach ailments.
Hard candy became popular in the seventeenth century as sugar prices dropped.  Previously, hard candy was something that only the well-to-do could afford.  By the mid-1800s, over 400 companies were manufacturing this popular treat.
In 2015, Jolly Ranch surpassed Werther's Original was the best selling hard candy.  Other popular hard candies include Dum Dum Pops, Life Savers, Tootsie Roll Pops and Charms Blow Pop.
Article Source :http://www.nationaldaycalendar.com/national-hard-candy-day-december-19/