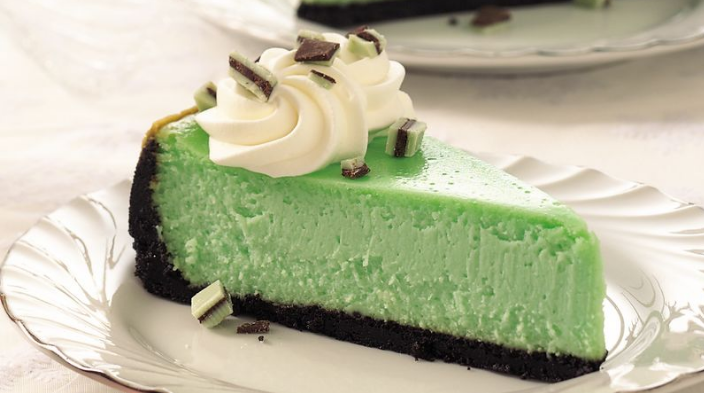 cheesecake is one of those popular dessert to make for any occasion so with it being National Creme de Menthe Day , I thought what better way than to celebrate this food day than with this delicious cheesecake.. A really great recipe that I think you will all love
A really easy cheesecake to make so why not check out this recipe and make one for that dinner party maybe
This great recipe has been brought to you by bettycrocker.com website , thanks for sharing it with us
Here below is the ingredients you will need from the website

 Prep Time 20

MIN

Total Time 

6

HR

0

MIN

Servings 

16
Start with a quick cookie-crumb crust, then add a refreshing, mint-green filling flavored fast with creamy liqueur.
Ingredients
Filling
3 (8-oz.) pkg. cream cheese, softened
3/4 cup sugar
3 eggs
3/4 cup whipping cream
1/4 cup green crème de menthe
Garnish
1/2 cup whipping cream
1 tablespoon powdered sugar
8 thin chocolate and green mints, coarsely chopped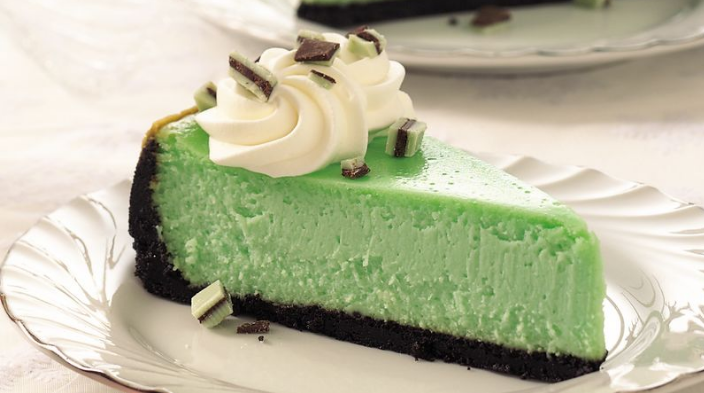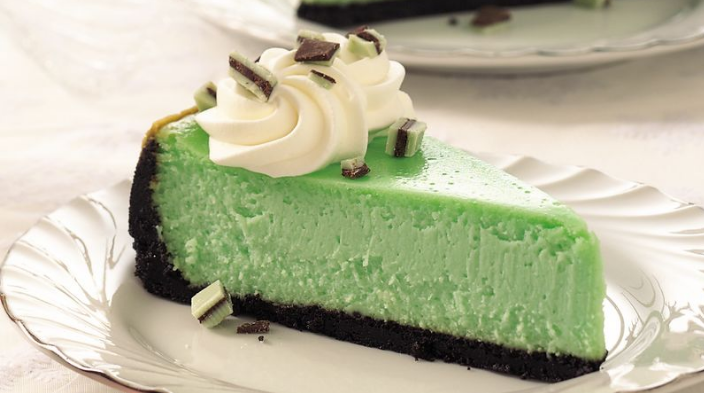 TO GET THE RECIPE:http://www.bettycrocker.com/recipes/creme-de-menthe-cheesecake/a759a1bf-b369-4995-9c06-9791d5aae8b5
National Crème de Menthe Day
September 15 is a holiday for those who like mint-flavored liqueurs as the National Crème de Menthe Dayis celebrated on this day.
Crème de menthe is translated from French as "mint cream". It is a sweetened alcoholic beverage (liqueur) flavored with Corsican mint. It is available in two variations: green and colorless (referred to as "white").
Crème de menthe is traditionally made by steeping dried mint leaves in grain alcohol for several weeks, filtering, and adding sugar. It can be served by itself as an after-dinner drink, poured over ice or used as an ingredient in cocktails. It can also be used in food recipes as a flavoring or topping.
To celebrate the National Crème de Menthe Day, throw a cocktail party and serve cocktails which contain this liqueur, such as grasshopper or stinger. To make a grasshopper cocktail, pour 1 part Crème de menthe, 1 part Crème de cacao, and 1 part fresh cream into a shaker with ice. Shake briskly and strain into a chilled cocktail glass.
Stinger is another popular cocktail with Crème de menthe. To make it, pour 5 parts cognac and 2 parts Crème de menthe into a mixing glass with ice, stir and strain into a rocks glass with ice or cocktail glass. Stinger is typically made with white Crème de menthe.
Article Source :https://anydayguide.com/calendar/1213