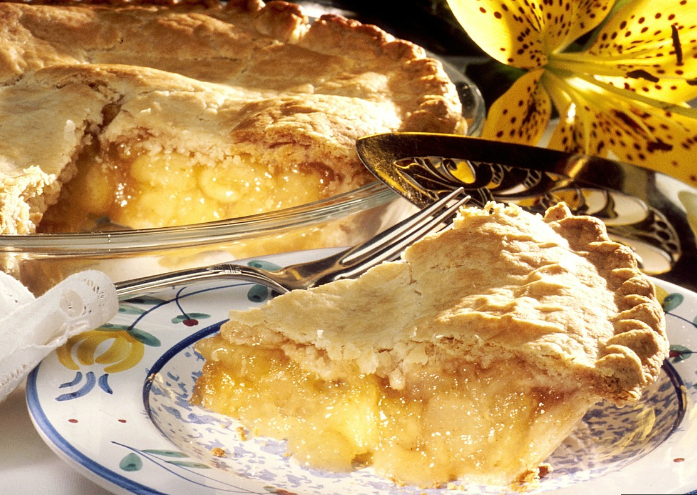 My Nan would often make an apple pie, where her pastry was the best she would use shortening and butter which makes an amazing pastry that melts in the mouth and with the tartness from the apples, well you are onto a winner with this pie
Here below is the recipe for you .. it is so delicious your family and friends will love it
Crust:
2 3/4 cups sifted all purpose flour
1/2 tsp. salt
1 cup shortening
1/4 cup butter
2 to 3 tbsp. cold water
Filling:
4 apples (tart apples preferred)
1/2 cup brown sugar
1/2 cup sugar
1/2 tsp cinnamon
1/4 tsp nutmeg
1 tbs starch
Crust:
In A bowl combine flour, shortening, salt, and butter and rub together  until mixture is crumbly. Gradually stir in water to form a dough.
Divide dough in half and wrap in plastic wrap or waxed paper and chill for half an hour.
Filling:
Peel apples and cut into thin wedges. Combine with sugars, cinnamon and nutmeg. Mix together.
Once the pastry is chilled roll out it out to fit into a 9 inch pie pan. fill with apple filling  and then roll out the other piece of pastry to cover  the filling and cut of the excess around the edge . You may also if you prefer cut the top layer of pastry into strips before placing it on top of the filling instead of covering the filling completely making it a more open top pie
Bake at 400°F for 40-50 minutes.
Serve warm with whipped cream.