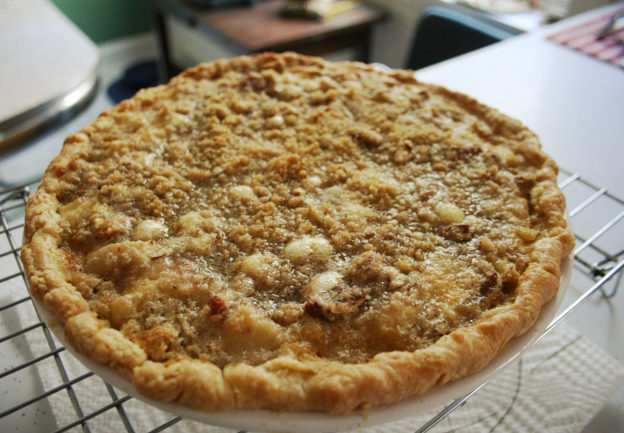 Pear pie at it's best, served with a delicious caramel sauce , the combination of the pear and the caramel is so wonderfully good .. this pear pie has that amazing crumble topping that is a delight so you get a pie and a crumble sort of …
Serve this to your family and friends and they will love you forever .. great to make for that Sunday lunch time dessert where everyone can enjoy it together
Here below is the a list of the ingredients and the recipe on how to make this amazing homely fruit pie that Mom use to make
Ingredients
1 ready-made pie crust (like Pillsbury)
2/3 c. flour, divided
1/2 c. splenda or sugar
1/2 tsp. cinnamon
1/8 tsp. salt
3 tbsp. lemon juice
6 medium-sized, firm pears, peeled, cored, cut lengthwise into thick wedges
1/2 c. packed light brown sugar
3 tbsp. chilled butter, cut into small pieces
Preheat oven to 375°F.
Lightly spray a 9-inch pie pan with cooking spray. Put pie crust into pan, set aside. Combine 1/3 cup flour, sugar, cinnamon, and salt in large bowl. Add juice and pears to flour mix, toss to coat. Arrange pear mix in even layer in crust. Combine remaining 1/3 cup flour, 1/3 cup brown sugar, add cold butter, cut with 2 knives until crumbly. Sprinkle over pears.
Bake 1 hour. Cool 10 minutes.
SAUCE:
1/2 c. packed light brown sugar
3 tbsp. heavy whipping cream
2 tbsp. soft butter
2 tsp. water
For sauce, combine 1/2 cup brown sugar, cream, and soft butter in small saucepan over med-high heat. Bring to boil, cook 1 min, until thick. Serve warm over pie.
So rich and luxuriant you won't believe how low calorie it is; 287 per slice, (with splenda) for fat; 11 grams-saturated.
Recipe by: Sherry Monfils on cooks.com, thanks for this recipe with us