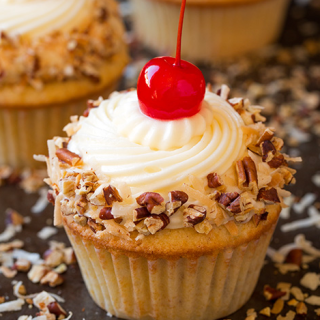 The most decadent looking italian cream cake for these cupcakes with the soft fluffy sponge and are decorated with creamy cheeses frosting with crunchy pecan nuts to decorate , this makes these Italian cream cupcakes a total mouthwatering treat ..
I love the way they are so inviting with that super cherry on the top .. this great recipe is brought to you by Jaclyn, creator of the food blog cookingclassy.website .. thanks for sharing this fab recipe
Here is a excerpt from Jaclyn from cookingclassy.com webite about these cupcakes just to get thoes taste buds working
You get this decadent toasted sweetness from the shredded coconut and just the right amount of crunch from the pecans, and that perfect creamy richness from the luscious cream cheese frosting – all paired together in one soft and fluffy Italian Cream Cupcake! You are going to love them!!

Go the extra mile and don't forget the cherry on top! Always a win in my book.
To see the recipe for these cupcake please use the next page link below