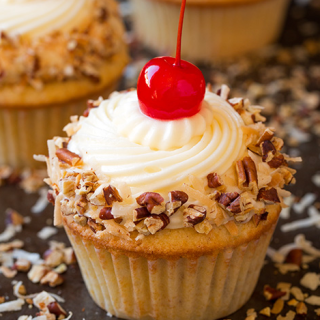 I love Italian Cream Cake, and it's worth making them into individual cupcakes. They are also easier to decorate even if you don't have good piping skills.

Make these cupcakes for your special afternoon tea party. They have rich cream cheese frosting with crunchy pecans and shredded coconut garnish. Plus, a cherry on top is a bonus.

Ingredients for Italian Cream Cupcakes

2/3 cup + 1/2 cup sweetened shredded coconut, toasted and separated
1/2 cup buttermilk
3/4 cup all-purpose flour
3/4 cup cake flour
1/2 teaspoon baking powder
1/4 teaspoon baking soda
1/4 teaspoon salt
1/2 cup unsalted butter, softened
3/4 cup granulated sugar
2 large eggs
1 teaspoon vanilla extract
1/2 + 1/2 cup pecans, chopped, toasted, and separated
cherries, optional

For the Frosting:

8 ounce cream cheese, softened
1/2 cup unsalted butter
2 1/2 cups powdered sugar
1/2 teaspoon vanilla extract

How to Make Italian Cream Cupcakes

Put baking liners in a 12-cup muffin pan.

Preheat the oven to 350°F. Put shredded coconut on a baking sheet and toast them for 5-8 minutes until golden brown. Toss the coconut once and keep an eye on it. Cool them slightly and put 2/3 cup in a food processor. Pulse for about a minute until finely ground.

In a bowl, combine buttermilk and ground coconut. Stir and rest for 10 minutes.

Sift dry ingredients: cake flour, all-purpose flour, baking powder, salt, and baking soda into a large bowl. Mix until well-incorporated.

In a separate bowl, beat sugar and butter at medium speed until light and fluffy. Add vanilla and then one egg at a time. Reduce speed to low and gradually add flour mixture about 1/3 cup and whisk until combined. Add half of the buttermilk mixture and mix again; repeat the process for the flour and remaining buttermilk mixture while scraping the sides of the bowl with a spatula. Put the toasted pecans and fold them carefully.

Divide and fill each muffin cup with batter about 2/3 full. Bake cupcakes at 350°F for about 19 to 21 minutes until a toothpick inserted comes out clean. Remove from the oven and transfer on a wire rack and let them cool completely.

Meanwhile, make the frosting. Beat the cream cheese and butter until smooth. Add vanilla and sugar and beat again until fluffy. Transfer in a piping bag. You can chill the frosting if it's runny before frosting the cupcakes.

Using an open star tip or any tip that you want, pipe the frosting on the cupcakes. Garnish with the toasted pecans and coconut.

To see the original recipe that inspired this one, check out the recipe for Italian Cream Cupcakes found at Cooking Classy.