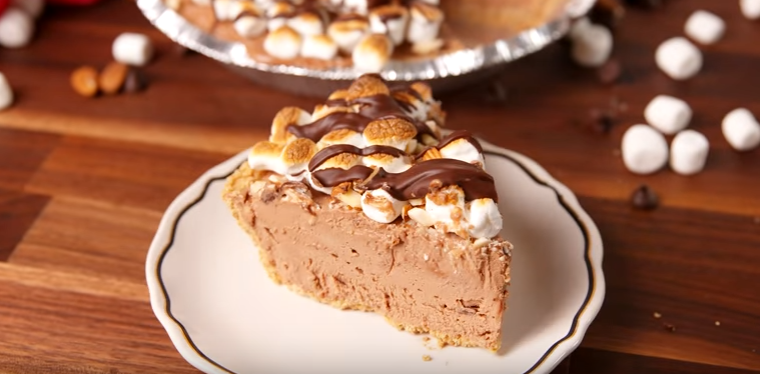 I love anything rocky road so I was so pleased when I came across this rocky road pie when looking around on YouTube , it does look so delicious and would be great to make for any occasion from a dinner party dessert to a family weekend dessert which is what I will be making it for , I can't wait
This pie is an ice cream pie
A really easy recipe to do as you will see from the video tutorial below
This great recipe has been brought to you by Delish on YouTube, thanks for sharing this recipe with us
Here below is  the recipe and video tutorial both from the YouTube channel
Turn your favorite ice cream flavor into pie!
DIRECTIONS
1. Make filling: In a large bowl, combine cream cheese, sugars, cocoa powder, melted chocolate, and salt. Beat with a hand mixer until smooth. Gradually add heavy cream and beat until stiff peaks form.
2. Pour into prepared graham cracker crust. Refrigerate until set, about 2 hours.
3. Cover top of pie with marshmallows and almonds. Broil, until toasted, about 1 minute.
INGREDIENTS
1 graham cracker crust
12 oz. cream cheese, softened
1/2 c. granulated sugar
1/4 cup brown sugar
2 tbsp. cocoa powder
1/2 c. chocolate chips, melted (plus more for drizzling)
pinch of salt
1 1/2 c. heavy cream
1 1/2 c. mini marshmallows
1/2 c. chopped almonds