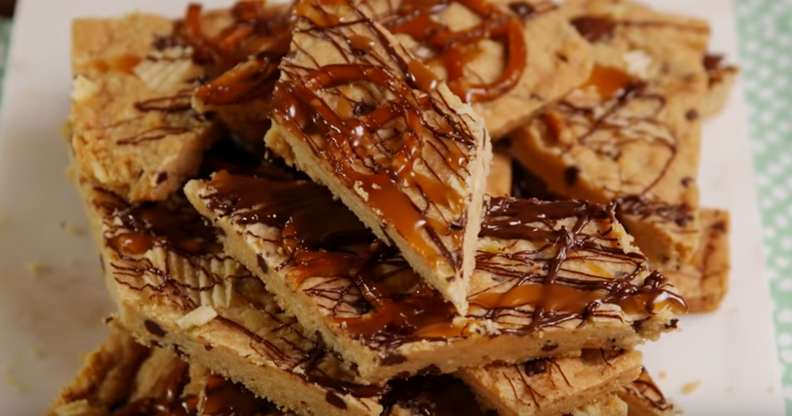 Cookies are such fun to bake on your own or with the family so how about this weekend you make this Cookie Crack Recipe , one it is made you just break it up into pieces I love it as you get odd shapes great to have with a mug of latte or a hot chocolate , that is why it is a weekend bake I think where you can sit and into them with good company
This great recipe has been brought to you by Delish on YouTube, thanks for sharing this recipe with us
Here below is  the recipe and video tutorial both from the YouTube channel
This salty 'n sweet combo is totally irresistible.
DIRECTIONS
1. Preheat oven to 350º and line a large baking sheet with parchment. In a large bowl using a hand mixer, beat butter, sugars, and vanilla until fluffy. Add flour and salt and beat until combined, then fold in mini chocolate chips and potato chips.
2. Spread cookie mixture onto prepared baking sheet and press in pretzels.
3. Bake until golden and crispy, about 15 minutes. Let cool completely, then drizzle with caramel and melted chocolate.
4. Let harden, then break into pieces and serve.
INGREDIENTS
1 c. butter, softened
1/2 c. sugar
1/2 c. brown sugar
1 tsp. vanilla
2 c. flour
1/4 tsp. salt
1 c. mini chocolate chips
1/2 c. crushed potato chips
1/4 c. whole pretzel twists
Flaky sea salt
Caramel, for drizzling
Melted chocolate, for drizzling