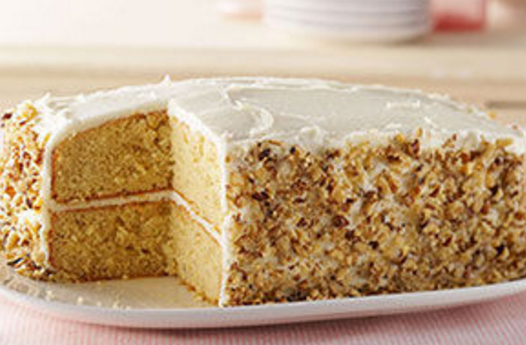 This sour cream banana cake is super moist and delicious. It is packed with flavors, the mashed banana, the cream cheese frosting, and additional great texture from walnuts. This is for the whole family because you can make 16 servings out of this cake.
I love cream cheese frosting, which is why I always make this, not to mention its large number of servings. This banana cake is perfect for tea and coffee.
Ingredients for Sour Cream Banana Cake
1 package (2-layer size) yellow cake mix
3 ripe bananas, mashed
1 cup BREAKSTONE'S or KNUDSEN Sour Cream
3 eggs
¼ cup oil
8 ounce PHILADELPHIA Cream Cheese, softened
½ cup butter, softened
16 ounce powdered sugar
1 cup PLANTERS Walnuts, finely chopped
How to Make Sour Cream Banana Cake
Preheat oven to 180°C / 350°F. Combine cake mix, bananas, sour cream, eggs, and oil and then beat at a low speed until moistened. Frequently scrape the side of the bowl and beat. Grease and flour a 13×9-inch pan. Pour the mixture into the pan. Bake for 35 minutes or until a toothpick inserted comes out clean.  
While waiting for the cake to cool, beat cream cheese and butter while gradually adding the sugar. Mix until well-combined.
Remove cake from pan and then cut it in half crosswise. Spread some frosting on the first half of the cake and then top with the other half. Spread the remaining frosting on top and sides of the cake. Garnish it with the chopped walnuts. Press them on the sides, but you can put some on top of the cake too if you want.  
To see the original recipe that inspired this one, check out the recipe for Sour Cream Banana Cake found at myfoodandfamily.com